5 reasons why SMEs fail and how to avoid it
5 august 2021
Digital transformation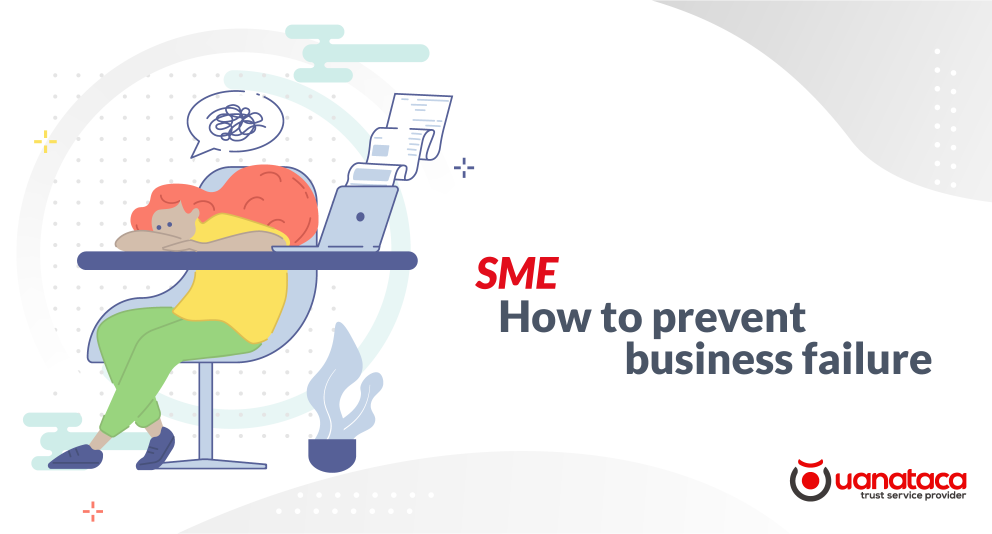 SMEs are the engine of most economies worldwide. So much so that even the UN considers them to be the core of the economy, generating between 60% and 70% of employment, as well as being responsible for 50% of the world's GDP. However, the annual failure rate of small and medium-sized companies is very high, with between 50 and 75% of companies ceasing to exist within the first three years.
Although each case is different, in general, there are common factors that can cause business failure. In this post we address the main reasons why SMEs fail and the tools that help to avoid it.
1.- INSUFFICIENT FUNDS
Businesses usually take a few years to become profitable, and the rapidly changing environment forces companies to have the necessary liquidity to undertake the necessary changes.
Access to finance and lack of sufficient operating funds to stay in business are often the main solvency issues facing SMEs. For this reason, we detail 3 possible sources of financing for SMEs.
▪️ Grants and subsidies for SMEs.
There is a wide variety of aid packages that are intended for business projects at the state, regional or even local level. In Europe, the European Recovery Fund has earmarked several lines of support for SMEs: the RRM (Recovery and Resilience Mechanism) and REACT-EU.
---
📢The fastest way to apply for public grants and subsidies for SMEs is by digital certificate, being in some cases the only recognized means of identification.

---
▪️ Venture Capital
Venture Capital companies are large fund managers that invest in projects with high expectations of profitability. This type of financing is more suitable for companies that are in the initial phase of their development.
▪️ Private Equity
These funds have a similar operation to Venture Capital, although they differ in that they are more suitable for projects that are already consolidated or in the expansion phase.
▪️ Crowdlending.
Crowdlending is a direct loan between individuals and without the intervention of any financial institution. Its operation is simple: through a platform, SMEs raise their financing needs and investors lend their savings in exchange for an interest rate.
This type of crowdfunding is suitable when it is necessary, for example, to undertake digitalization in the SME.
2.- DELAYING OR AVOIDING DIGITAL TRANSFORMATION
Digitalization, especially now that the Covid-19 crisis is a constant challenge for all business segments, can make the difference between the success or failure of an SME.
Before the global pandemic, only a small percentage of SMEs in Spain had started their digitalization process. Today, that percentage has increased by several points. In the case of SMEs, there have been advances in internal and external processes that have contributed to guaranteeing their activity, but in reality, this is not digital transformation.
With the aim of promoting the adoption of basic digital solutions by SMEs, different international programs have emerged, such as the Digital Toolkit Program, at European level.
Now, thanks to Uanataca's services, SMEs can also access flexible electronic signature solutions adapted to companies without the need to make an initial investment or have their own infrastructure.
THE USE OF ELECTRONIC SIGNATURES IS ENABLING COMPANIES TO DIGITIZE THEIR INTERNAL AND EXTERNAL SIGNATURE PROCESSES, IMPROVING THEIR VALUE PROPOSITION COMPARED TO THE COMPETITION.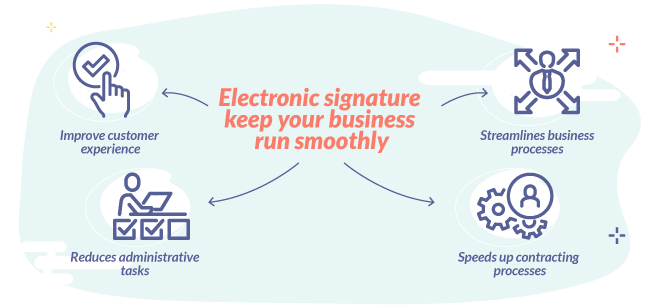 In addition, Uanataca's electronic signature services are integrated with other digital tools that boost the growth of the SME, such as HR software and/or document management.

3.- NOT HAVING A FINANCIAL PLAN
A common failure in novice entrepreneurs is their rejection of the economic and financial plan of the company and the loss of control over the income and expenses of the business.
If the costs and expenses of the company are not known, it is impossible to know where the break-even point is and to detect if the business is making losses. The important thing is to have the necessary information and basic knowledge to interpret the results.
In SMEs, where resources can sometimes be scarce, cost savings can be a determining factor in their survival. It is not a matter of making cuts, but of doing more while spending less.
Be sure to read this article in which you will discover different methods and tools to save money in your business and increase profitability.
4.- LACK OF LONG-TERM STRATEGIC PLANS
The lack of a long-term strategy is the main cause of failure in companies. When there is no planning, there is no efficiency in the company and its consequences are reflected in the profits or losses of the business, slowing its growth and development.
To avoid failure, you should not limit planning to a macro vision of the company, since all aspects of the business benefit: recruitment, communication, marketing, innovation, operational processes, among others. This approach will allow you to be in control of the situation, avoiding having to react urgently to daily and emergency situations.
- Identify opportunities. Without planning, you run the risk of overlooking moments or circumstances that could be crucial for the development of the business. You must avoid missing opportunities at all costs.
- Anticipate the market. Knowing your customers and having data on the market will allow you to anticipate needs and adapt quickly to changes in the market, making your offer stand out from the competition. Thanks to the analysis you will be able to consider possible scenarios and plan the actions that will lead you to success.
- Allocate resources appropriately. As important as having the necessary resources to carry out a project is to plan their distribution. Identify what and how many resources are needed to complete a project and plan their allocation efficiently.
5.- LACK OF SPECIALIZATION IN A MARKET NICHE
The fear of not being profitable is one of the reasons why some SMEs do not specialize in a specific niche. As a result, many companies spend their whole lives doing a bit of everything and selling to a very diversified group of consumers.
Company size should not be a constraint. The opportunity to focus on a specific audience is not reserved only for large companies. In each market, there are different segments with specific needs that are not always met by large companies. This gap is the opportunity for SMEs to specialize.
If your business manages to strengthen its position in a niche market, it will probably be able to widen its profit margin, adapt easily to changes in preferences and achieve a high degree of loyalty.
In conclusion, it is not possible to ensure the success of an SME at the moment of its creation, but it is possible to achieve a successful management.
As we have seen in this article, the secret of successful SMEs lies in focus, with a vision for the future, in planning beyond a macro vision, in an efficient allocation of resources and in transforming your business through the use of technology.
To successfully digitize signature processes, companies must implement electronic signature services tailored to their needs. Uanataca offers electronic signature solutions for the digital transformation of companies in all sectors.
---
>> Start the digital transformation of your business today
If you have not yet digitized your signature processes, request a free demo and discover the best electronic signature solution for your business.