Electronic signature. The definitive guide for companies
29 july 2021
Electronic signature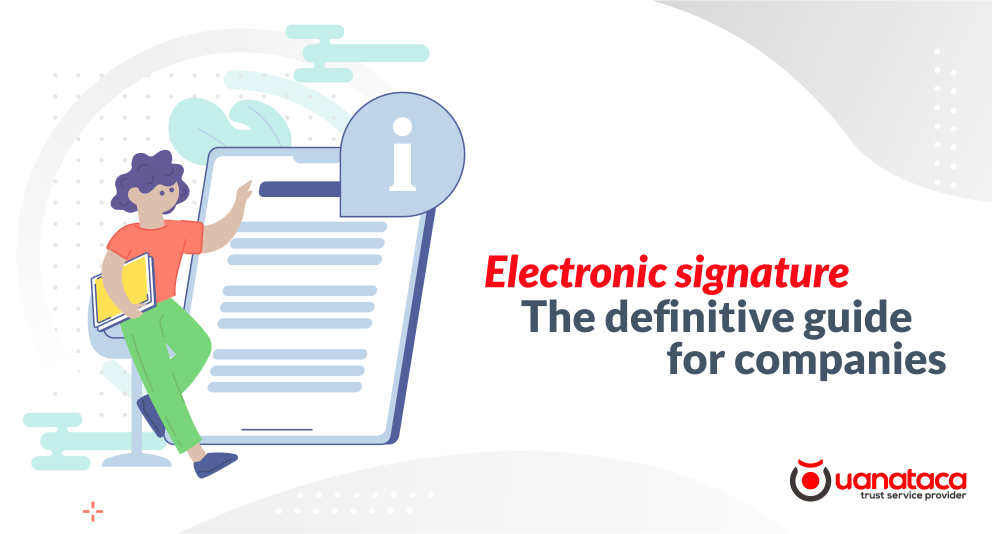 In general, companies have accelerated their digitization in the last year. They are transforming customer transactions and customer experience through the adoption of electronic signature. In addition, the digitization of processes such as procurement, invoicing and more is achieving rapid gains in efficiency, productivity and significant reductions in unnecessary costs.
In this guide for businesses you will find the main practical aspects to take into account to successfully undertake the implementation of electronic signatures, from the choice of the provider or the most appropriate solution to the moment of its integration into business processes.
What is an electronic signature?
An electronic signature is a set of electronic data used by the signatory to identify himself and express acceptance of the content of a document or his intention to authorize a transaction, both in electronic format.
According to Regulation (EU) No. 910/2014 (eIDAS), which establishes the common legal framework for trust services in the European Union, electronic signature is the "data in electronic form which is attached to or logically associated with other data in electronic form and which is used by the signatory to sign".
Includes a the most basic electronic signature and the one that provides the least security to the user, from the most secure and legally backed up level offered by the qualified electronic signature:
▪️ Simple electronic signature: it is the most basic, not being able to be equated to the handwritten signature.
▪️ Advanced electronic signature: this type of signature is at an intermediate level of security, without being comparable to the handwritten signature.
▪️ Qualified electronic signature: of the three types of signature recognized by the eIDAS regulation, it is the only one equivalent to the handwritten signature.

mOST SEARCHED ABOUT ELECTRONIC SIGNATURE
>> Qualified, advanced or simple electrónic signature. Types of electronic signatures and their differences
Is electronic signature legal in all countries?
Yes, regardless of whether the parties are located in two different countries, in principle their willingness to accept the use of electronic signatures is sufficient to give legal effect to the contract or any other related document.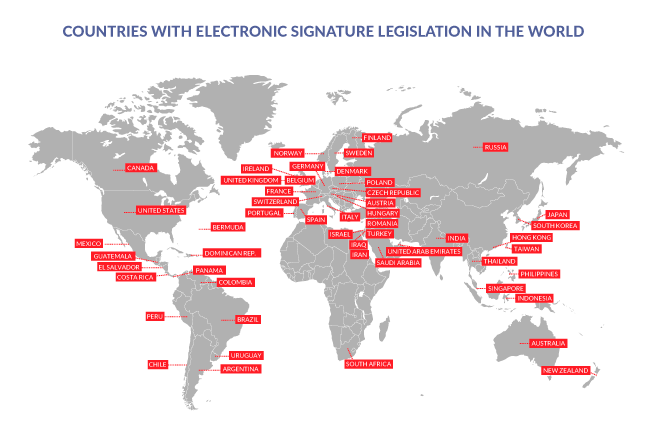 There is no longer any doubt as to whether electronic signatures are legal and the trend towards their regulation is growing. However, their evidentiary force and effects will depend on the type of electronic signature used, the technology used to generate it and the entity in charge of providing it.
In the case of a business, the criterion to be used to select one type of firm or another will be the risk we are willing to assume.
In this sense, qualified electronic signatures based on digital certificates issued by Qualified Trust Service Providers such as Uanataca are the most robust and the only ones that offer real guarantees of authenticity, integrity and non-repudiation or linkage to the content, which prevent the signatory from easily denying its legal effects.
Related article >> The electronic signature: is it legal in other countries?
What type of documents is an electronic signature for?
The electronic signature is a tool that allows individuals or legal entities to sign any type of document. Its advantages, such as agility or cost reduction, among others, are favorable for any document or business signature process. As for use cases, the list is very extensive and, therefore, we have selected the most common and demanded uses in business.
- Employment contracts
- Customer contracts and forms
- Real estate contracts
- Consumer credit and micro-credit agreements
- Insurance policies
- Signing of university certificates and degrees
- Electronic invoicing

Related article >> What type of documents can be signed electronically?
Advantages of Uanataca's electronic signature for business

- Transform the customer experience 👌🏻. Electronic signature provides a seamless digital process that simplifies and reduces purchasing processes, increasing customer satisfaction.
- Increases staff productivity and operational efficiency⚙️. Once an electronic signature is implemented in a business, manual paperwork is completely eliminated as well as time-consuming errors. In companies and institutions that sign large volumes of documents, there is a noticeable increase in productivity.
- Reduces expenses 🔌. By eliminating the need to manually prepare, send and file large quantities of paper documents, it saves on staff hours that can be invested in other tasks, purchase of materials and equipment maintenance costs.
- Increases sales 💰. Customer churn rate is significantly reduced thanks to an end-to-end digital process, maximizing the percentage of signed contracts.
- Legal and compliance guarantees ⚖️. Regardless of its typology, an electronic signature is not denied legal effects or admissibility as evidence in legal proceedings. In addition, qualified electronic shall have a legal effect equivalent to that of a handwritten signature.
- Sustainable business practices ♻️. Replacing paper with electronic signatures is a statement of intent, a commitment to the environment, employees and customers that strengthens the company's image.
Cases of use of Uanataca's electronic signature by business sector
At a time when digitizing internal and external signature processes in companies is essential to ensure business continuity, we can find examples of the use of electronic signatures in all types of sectors and industries.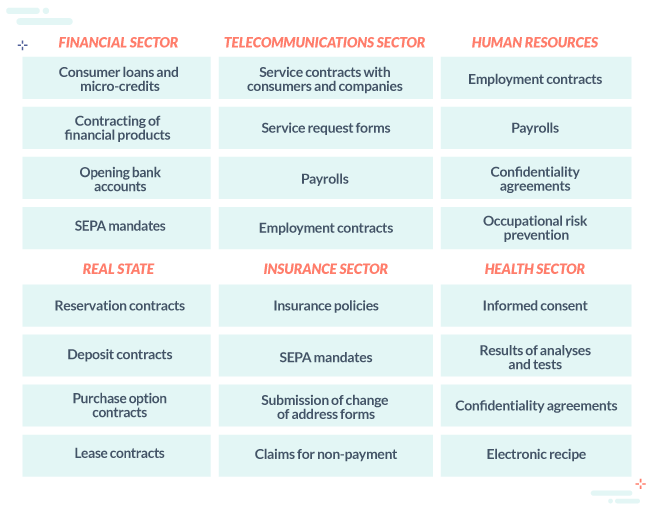 Steps to follow to digitize the signature processes in your company
1. CHOOSE THE PROVIDER: THE FIGURE OF THE QUALIFIED PROVIDER OF TRUSTWORTHY SERVICES
The particular guarantees offered by the provider are a key element in the choice of a reliable electronic signature solution, and special attention should be paid to the reliability offered.
In this sense, Qualified Trust Service Providers guarantee that, through their infrastructure and human team, they will develop services characterized by their legality and security.

Related article >> What is a Qualified Trust Service Provider?
2. CHOOSE THE MOST SUITABLE E-SIGNATURE SOLUTION FOR YOUR BUSINESS
In this aspect it is important to take into account that the ideal solution may not be a single service, but a combination of several of them. For this reason, at Uanataca we offer different electronic signature services and other types of qualified trusted services. All of them can be used independently or complement each other to reinforce their guarantees and security.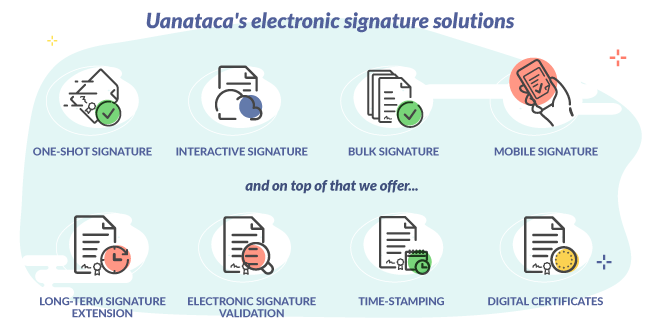 3.- INTEGRATE THE ELECTRONIC SIGNATURE SOLUTION INTO YOUR BUSINESS FLOW VIA API REST
Accessibility is one of the advantages of Uanataca's services, with a flexible pay-per-use model that allows companies, regardless of their size, to integrate electronic signatures into their processes from day one, with no investment or service registration costs.
In addition, the integration of each and every one of Uanataca's services is done quickly and easily through the use of Uanataca's APIs Rest. The integration process consists of four main stages, during which Uanataca's team of professionals offers its clients the appropriate support to guarantee the correct integration.
4.- TAKE ADVANTAGE OF THE ELECTRONIC SIGNATURE!
Once implemented in your business, you will be able to make the most of the electronic signature and streamline procedures with customers, suppliers or Public Administrations in a secure and legally valid way.
---
📢If you have doubts about which service and type of electronic signature to choose, or you would like to receive advice, contact Uanataca's team of experts. After evaluating your case, they will determine which electronic signature you need to implement in your company and which service best suits your signature processes.