What is Business Intelligence? Top 5 free tools for business
26 august 2021
Digital transformation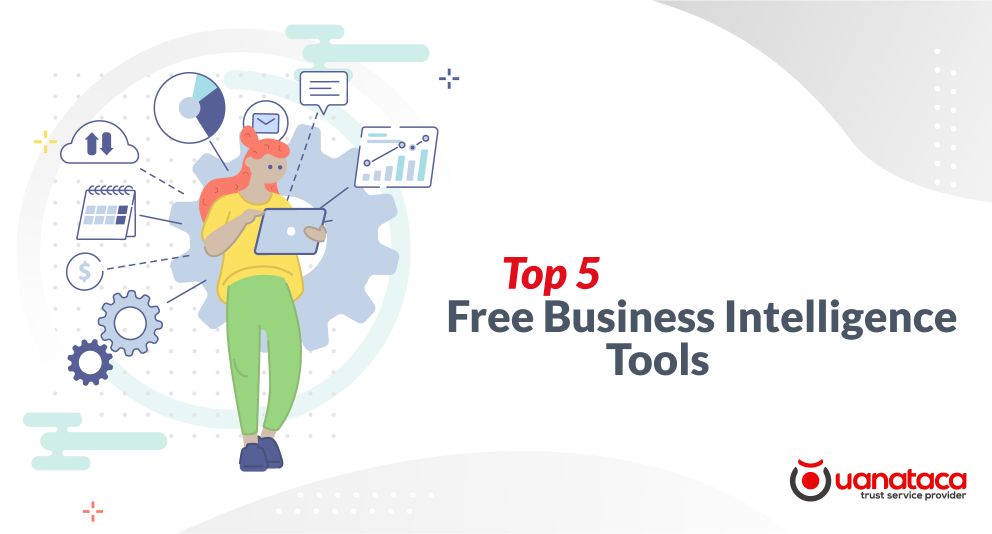 In the digital era, react quickly to change and an almost immediate response to new customer demands and habits allow businesses to take advantage of market opportunities. To achieve this, decision makers must have effective information that will allow them to use it in favor of business development.
In this post we explain what Business Intelligence is, why it is so important and which are the most popular free business intelligence tools.
Business Intelligence: the power of data
Business intelligence (BI) is the name given to the strategies and tools that transform a company's data into knowledge of the environment, facilitating business decision-making.
The main objective of Business Intelligence is to group a company's data - from the market, its customers, competitors, suppliers or even its employees - and use it to convert it into information ready to be analyzed, making it possible to identify problems, risks and opportunities for a company. In short, BI serves to help decision-makers use the information generated in favor of business growth.
BI is used in the decision-making process by multi-sector companies of all sizes, from small retail stores to large multinationals. In the article "Business Intelligence Definition and Solutions", Ryan Mulcahy talks about the use of business intelligence in large businesses with concrete examples. In the case of Toyota, the company it had been doublepaying its shippers to the tune of $812,000 in 2000.
Examples such as Toyota and the development of its capabilities to understand the environment, even internally, justify the flourishing of Business Intelligence tools in all areas of business.
Main Data Sources for Business Intelligence Solutions
Now that we know the impact of data analysis on the development of a business, we need to identify where we can get it from. In the case of BI, data sources are data supply points with potentially useful information for companies. Below, we highlight some of them:
Marketing, sales and purchasing: customer data, user behavior on social networks, information from corporate digital channels, satisfaction surveys, customer service aspects, market research, among others.
Production and operations: results of quality controls and audits, factors related to productivity, logistics actions, among others.
Human resources: aspects related to human resources.
Legal and compliance: legal and compliance aspects.
Financial area: economic and financial information.
Types of Business Intelligence tools
Despite the existence of a wide variety of Business Intelligence tools, some free and some paid, we can distinguish mainly 3 categories by their function:
▪️ Data Management ⚙️ (Management Tools)
These master data management tools enable everything from debugging to transforming and moving data to a particular system.
▪️ Discover new data 🔎 (Data Discovery Applications)
They collect and evaluate new information ( data mining), and apply on it predictive analytics techniques to make future projections.
▪️ Data Reporting 📉 (Reporting Tools)
Once collected and processed, the information can be visualized graphically and intuitively, and thus check whether or not they meet certain KPIs, or generate reports.
Top 5 free Business Intelligence tools
1. GOOGLE DATA STUDIO
This tool is completely free. To use it, it is only necessary to have a Google account. The connection with some data providers or data sources has a cost, but there is a list of sources to which we have access for free:
▪️ Google Analytics.
▪️ Google Ads
▪️ Google Spreadsheets.
▪️ Campaign manager
▪️ 360° Display and Video
▪️ Search Ads 360
▪️ Google Ad Manager
▪️ Google search Console
▪️ YouTube Analytics
2. MICROSOFT POWER BI
This is an ERP system that makes it easy for marketers, developers or analysts to make quick decisions. One of its main attractions is the ability to transform data into highly visual graphs and share them. In addition to Microsoft services, Power BI offers other standard connectors:
▪️ Google Analytics.
▪️ Facebook
▪️ MailChimp
▪️ Marketo
▪️ Salesforce
▪️ Zendesk
▪️ SuperMetrics and many more.
3. QLIK
For the eleventh consecutive year, Qlik is a leader in Gartner's Magic Quadrant for Analytics and Business Intelligence platforms. It offers multiple options and the creation of customized applications. It can be tested for free.
4. TABLEAU PUBLIC
It is a free online platform to explore data visualizations and share with the general public. Despite being free, it has very few limitations and allows to manage the entire structure at no cost to users.
5. GOOGLE ANALYTICS
It is one of the best known and most used BI tools in the world. Easy to integrate, it allows you to view and analyze any statistics of a web page and can also be integrated with other tools such as Search Console.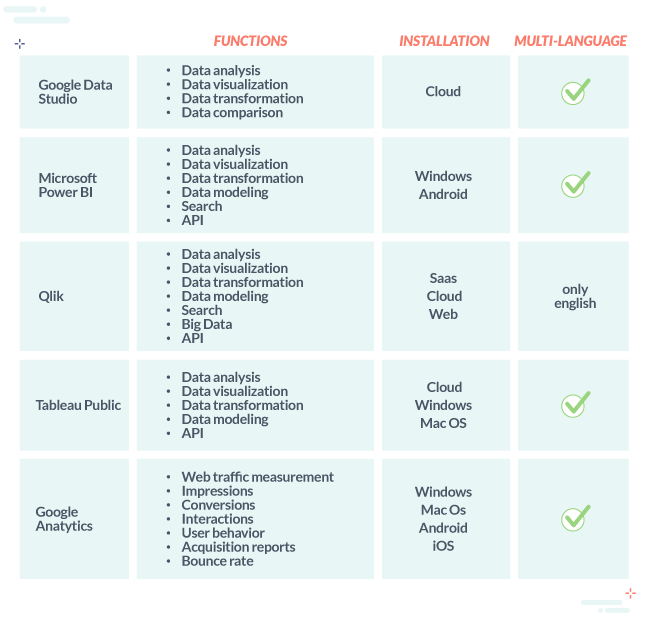 Some practical examples of the use of Business Intelligence in business
Business intelligence can help any company to anticipate changes in the market, to detect failures in its business processes or problems that have caused a satisfied customer to become a dissatisfied one. Below, we detail a series of specific aspects that can be improved through the use of BI.

1. Customer acquisition and loyalty
Business intelligence is the best ally of the sales, commercial and marketing areas. Collecting data at every point of interaction helps to improve processes and achieve greater customer satisfaction.
In the customer acquisition process, we can take the example of a telecommunications operator. BI can help them to make predictions about customer churn, anticipating the moment when customers will leave and making it coincide with a greater effort to attract new customers to replace those who leave.
In addition, knowing the habits of the target public and current customers will help us to adapt the offer to their expectations. For example, detecting the immediacy demanded by the new digital customer will guide us to find and integrate simple and 100% online technological solutions, as is the case of One-Shot Signature.

2.- Making strategic decisions about changes in product or service offerings
Some large restaurant chains use BI to decide which new dishes to add to their menu, which to eliminate, and which underperforming stores to close.
They also rely on BI to negotiate contracts with food suppliers and identify opportunities to improve inefficient processes, such as replacing paper-based signature processes with electronic signature solutions for contracts with staff, suppliers and any other type of documents, achieving maximum efficiency and cost and time savings.
3.- Improve the performance of the Human Resources area.

In the Human Resources area it is necessary that some documents are signed, in time and form, by the employees. Thanks to BI, you can know who has signed, who has not, and create reports that will contribute to optimize processes.
In addition, if you integrate electronic signatures in your company, you can streamline the process, reduce time and increase the ratio of signatures among employees.
There are many practical applications of Business Intelligence that enhance business growth. To successfully apply business intelligence, companies need to implement the right tools and, in turn, combine them with flexible and easy-to-use technology solutions to respond quickly to market changes, such as electronic signatures.

If you want to leave us your comment on this post, you can do so in the following form. ⬇️