5 ways to reduce expenses in your company
8 july 2021
Digital transformation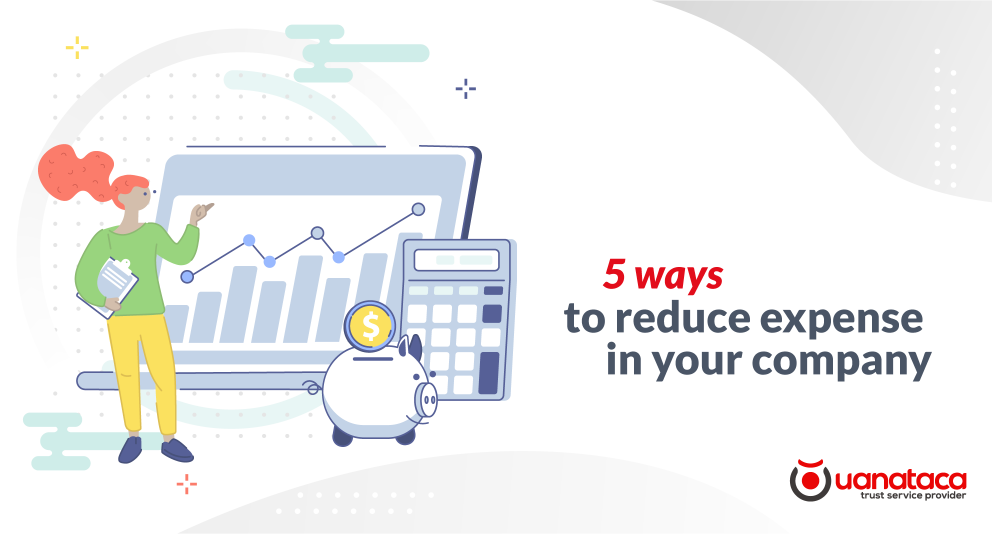 Having good financial health in a company is always a guarantee of stability and efficiency. To achieve and maintain it, it is important to have a thrifty mindset and consider some changes that will reduce or even, in some cases, completely eliminate unnecessary expenses that are detrimental to the company's bottom line.
It's not just about making cuts in your business, it's about being able to do more while spending less. That's why in this article we recommend different methods and tools to save money in your business and increase profitability.
What types of expenses can we find in a company ? Discover the advantages of effective control
Every company, by the simple fact of existing, must face a variety of expenses that, despite not being direct production costs, are necessary for the company to function and successfully carry out its distribution activity, the sale of its products or services, administration and even maintenance.
Therefore, in a company, we can find different categories of expenses grouped by their dependence on consumption, differentiating between fixed, variable and marginal expenses. Knowing and controlling them will only bring you benefits, both tangible and intangible, improving business performance and productivity.
One of the advantages of controlling them is being able to detect superfluous or unnecessary expenses.Likewise, by being aware of what you spend in your company and the diversity of offers in the market, you will be in a position to negotiate with suppliers. Moreover, by identifying which expenses are necessary and which are not, you will be able to get rid of the latter and optimise the former.
Cost-saving tips for your business
☁️ CLOUD COMPUTING OR HOW TO SAVE TECHNOLOGY COSTS IN THE COMPANY
Technology has demonstrated, particularly during the pandemic, its ability to provide businesses with flexibility and cost savings. One such development has been cloud computing, i.e. access to services and software via the cloud.
Despite initial reluctance and mistrust about its security, there are many advantages offered by the cloud, including the reduction of financial investment in infrastructure and technological equipment.
This saving is evidenced by the managers of organisations from 16 countries that use cloud services. In fact, according to a study by the consulting firm KPMG, seven out of ten CEOs confirm that efficiency and cost savings have increased in their company. Of those surveyed, half say that the main reason for cloud adoption is cost reduction.

In their search for remote solutions, many companies have found cloud-based e-signatures to be a flexible, agile and cost-saving tool.

🔎 CHECK YOUR SUPPLY BILLS AND COMPARE OFFERS
There are many supplies that are a current and essential expense for the normal development of companies that have a physical headquarters for their offices and/or production centres, such as water, electricity, Internet or telephony.
It is therefore worth adopting cost-saving measures. Comparing the offers presented by companies, which tend to be very changeable in the case of telephone operators, is a recommended practice to lower bills and achieve substantial savings.
In addition, it is advisable to check bills in detail to detect possible service errors. If we focus again on telephony, there is often an overcharge because more lines are billed than are actually used and we have to cancel them.
🧯 OCCUPATIONAL RISK PREVENTION: NEGOTIATE THE CONTRACT AND TAKE ADVANTAGE OF TAX BENEFITS
The occupational risk prevention contract is compulsory for all SMEs and even for some self-employed workers. It is not a question of dispensing with the plan, as not having one would lead to fines and even criminal liability. Rather, it is about intervening on two tracks: contract negotiation and tax benefits.
Negotiating the contract can mean an average annual saving of 13% with an external prevention service. Similarly, we can eliminate the extra cost of not taking advantage of tax benefits relating to occupational risks. Expenses such as training courses for staff, the purchase of less harmful screens for the eyes or investment in safer machinery are, in part, subsidised by Social Security.
📃 DECREASES IN PRINTING AND OFFICE STATIONERY COSTS
In a company, regardless of its size, the main savings can come from digitising the signing of contracts and paper invoicing.
After adopting electronic invoicing, paper expenses, printing costs and equipment maintenance costs are eliminated, as well as other expenses related to the management and physical archiving of invoices, whose storage period, according to commercial regulations, is six years. According to the digital magazine Emprendedores.es, the average saving between issuing an e-invoice and a paper invoice is 2.82 euros, and the average saving on receipt is 4.95 euros, with receipt being understood as the arrival of the invoice at its destination.
The same applies to contracts as to invoicing. The digitisation of the contract signature processes avoids the need to print the documents on paper, completely eliminating a source of expenses that, as the company grows, is increasing. In both cases, the use of electronic signatures will facilitate the leap towards a paperless office and the subsequent incorporation of the advantages it brings, such as a significant reduction in costs.
👨🏽‍💻 IMPLEMENTS ELECTRONIC SIGNATURE SERVICES ADAPTED FOR COMPANIES
The electronic signature is a tool that reduces administrative management times, avoids unnecessary travel and also improves efficiency, which translates into time savings for the company and for the employee. In addition, having an electronic signature solution designed specifically for business saves businesses considerable financial savings.
Companies that still use traditional signature methods, in addition to other disadvantages and risks such as document loss, have to bear considerable costs related to printing, handling, sending and secure archiving of documents, all of which are partly dispensable after the digitisation of corporate signature processes.
Take for example the signing of a paper-based contract and the costs incurred by both parties to complete the entire process. After being drawn up, the contract must be printed, delivered, signed by both parties and finally archived for a minimum of 4 years in order to avoid incurring an infringement of various kinds.
In all the phases described above, there are one or more costs associated with the traditional signature, e.g. purchase of material and equipment, delivery and return costs and/or costs for the physical archiving of the documents.
Uanataca's electronic signature solutions, on the other hand, are 100% paperless, which means that the company can dispense with the expense of a resource that is not only costly, but also highly polluting. In addition, in most cases, the ROI is increased. The Association for Information and Image Management (AIIM), after conducting two surveys on the costs and benefits of paper and paperless solutions, found that 84% had increased their ROI on their paperless office project.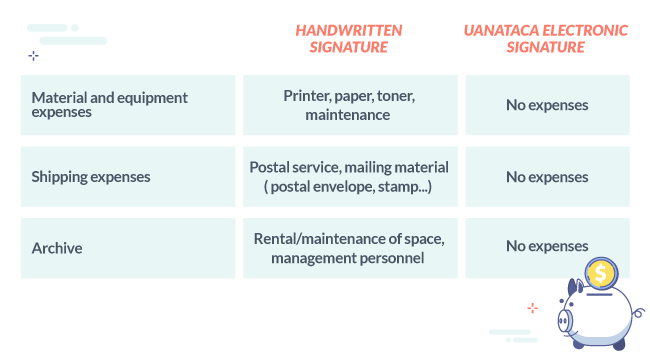 When assessing the savings involved in adopting electronic signatures, we should not limit ourselves to counting the visible costs (administrative staff, paper, stamps, envelopes, etc.), but we should also take into account the savings involved in the delivery and immediate return of the signed document, adjusting times and avoiding travel by customers, suppliers or even employees.
We can find all kinds of electronic signature solutions on the market, but in order to maximise savings without sacrificing the necessary guarantees, it is essential to have only electronic signature solutions adapted for companies.
With savings in mind, Uanataca's electronic signature solutions have a pay-per-use model far from standard rates. At Uanataca we know that companies tend to have variable activity cycles, therefore, the main advantage of this model is flexibility, as companies will only pay for the actual consumption made in each period.
---
>> Start the digital transformation of your business today
If you have not yet digitised your signature processes, request a free demo and discover the best electronic signature solution for your business.