Digitalizing signing processes: five infallible tips for companies
12 january 2023
Electronic signature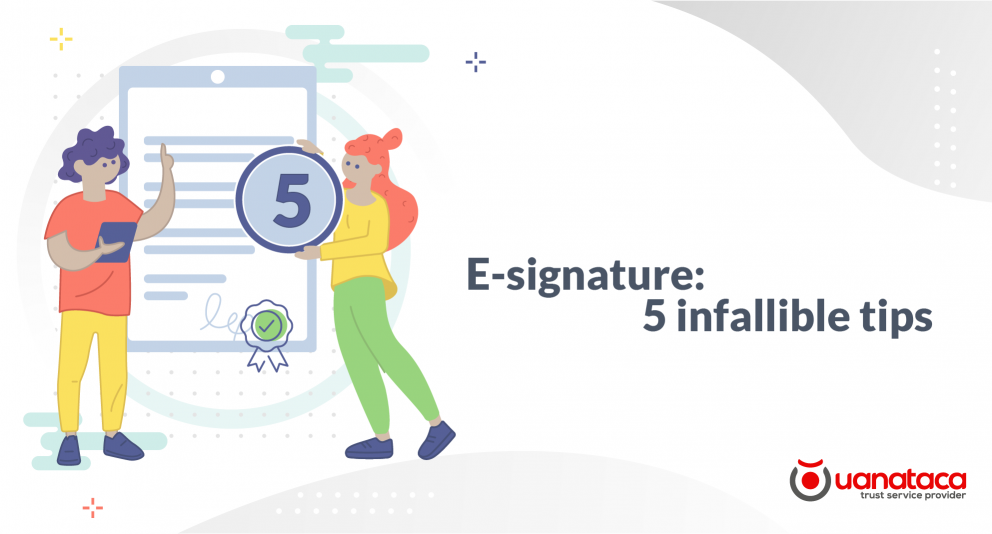 In the context of digital transformation in which companies find themselves, it is essential to digitise signature processes in all areas. Tools such as electronic signatures are intended to make processes more efficient, however, a mistake in choosing the right solution can be very detrimental to the business.
In this post we compile some of the most frequent reasons why the digitisation of signature processes ends up being a failure and we explain the recommendations that will help you to prevent them.
1.- Integrated solutions that avoid any type of interruption during the processes
Whether it is a one-off purchase or the contracting of a service, onboarding represents one of the most sensitive points when acquiring and incorporating a new customer.
When it comes to onboarding, access to the products or services offered by the company must be simple and quick. In the case of digital onboarding, this process must also be secure and fluid.
In addition to being a prerequisite for the customer, the security and fluency of the onboarding process are essential factors for companies in the financial sector, such as Solventa, the international Fintech Lending company that has revolutionised the personal loan market.
The problem Solventa encountered with traditional e-signature solutions was the lack of integration in its platform, causing a break in the process and a significant loss of customers. At the time of signing, users had to leave Solventa's onboarding platform, at which point they abandoned the process and did not return.
Thanks to Uanataca's One-Shot Signature solution, Solventa customers sign all the documentation related to the loan transaction within the same platform: from anywhere, at any time and with a Digital Certificate.
After the integration of One-Shot Signature, Solventa has increased its customer conversion rate. Now, onboarding is immediate, secure and in compliance with KYC and AML requirements.
2. Qualified Provider under the regulatory protection of the European eIDAS Regulation
In general, the financial sector is one of the most exposed to the consequences of a poor choice of electronic signature system. In Spain, a recent Supreme Court ruling has confirmed the sanction imposed by the AEPD (Spanish Data Protection Agency) on a financial institution for lack of diligence in the identification of a customer.
In addition to this sanction, there are other examples in the financial sector that have set precedents. For example, the case of a judgment absolving the defendant of the payment of a loan granted by a company and formalised by means of a contract signed through a well-known commercial platform.
In both cases, the entities have had to face a financial penalty, as well as a serious reputational crisis that has seriously damaged their image. The recommendation to avoid this type of situation is to entrust the digitisation of the signature processes of your business to a Qualified Trust Service Provider such as Uanataca.


3.- Easy integration and personalised advice
One of the most important strategic objectives of any business is to digitally transform its signature processes in an efficient way. However, each company is different and its particular characteristics make it necessary to define a unique and individualised proposal of trusted service solutions for each case.
For this reason, at Uanataca, we offer personalised advice to each company, finding the service offering that meets their needs and accompanying them throughout the process.

4.- Solutions designed for business: tailored, scalable and pay-per-use
The current context requires flexible solutions that allow companies to react quickly to changes in the market and to be able to adapt to take advantage of the opportunities that arise.
Uanataca's solutions allow companies to be able to react and adapt without losing service quality. How is this achieved? With different types of signature and security levels, as well as other complementary services that adapt to each use case.
On the other hand, Uanataca's pay-per-use model is an added value that allows companies to improve their financial health. This model does not include standard rates: with this system, companies pay only for what is actually consumed, allowing them to have greater control over costs.
5.- Impact your customer with the best signature experience
According to the 'E-commerce 2021 Study' by IAB Spain, 8 out of every 10 Spanish internet users aged 16 to 70 are regular online shoppers, a total of 25.8 million people. It is no longer enough to improve the customer experience, now companies must go a step further and provide a differential value with 100% online services.
KPMG Impulsa is an online agency that has revolutionised the market thanks to a close, easy and personalised digital service. It is characterised by the agility and immediacy of its services. The company relied on Uanataca to add value to its range of services. Specifically, they needed a solution for issuing digital certificates that met a series of attributes:
- 100% online process 👩🏿💻
- Technical and legal security 🔐
- No travel or appointments 🏡
Thanks to Uanataca's Video ID digital certificate issuance service, KPMG Impulsa can issue digital certificates to its clients easily, quickly and with maximum guarantees.

The digitisation of companies represents a real transformation in which the role of the supplier is essential to provide guarantees and trust in the signature processes. The most important question companies must ask themselves is "how should we do it? And we take care of how to do it, with secure, simple to implement and easy to use solutions that add value to any type of business.