What is the role of digital transformation in business growth?
9 febrero 2023
Digital transformation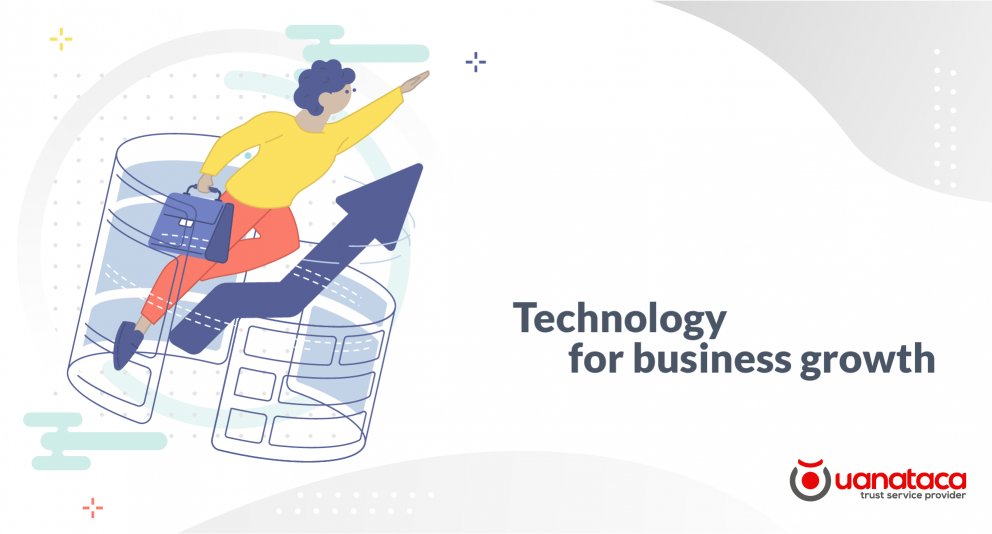 Although achieving success has its own meaning for each company, in general, business growth is often one of the most pursued goals.
In this post we talk about how the process of digital transformation makes businesses continuously improve and drives the organisation to develop faster, more efficiently and in a more stable way over time.
Digitised companies are more likely to grow
In the new context of digitalisation, successful companies are digital. Applying digital capabilities to processes, products and assets is key to business growth. According to a recent study by Microsoft, nearly 70% of companies surveyed consider growth as their main driver, and early adopters of technology experienced faster and higher growth.
The digital transformation process allows companies to focus on the application and use of emerging technologies to create value through innovation, invention, customer experience or efficiency - in short, to develop the ability to grow.
Technological application also has a transformative capacity, giving rise to the emergence of new strategies and business models: we are referring to X-Tech, a disruptive industry that represents the culmination of the digitisation processes of various sectors and areas of activity.


As we will discuss in the next section, digital transformation plays an essential role in all types of businesses, not only in those that use technology as their core business, but also in other more traditional sectors.
What role does digital transformation play in business growth?
Technological leverage is a key factor for business growth that also allows the development of many other growth factors such as those detailed here:
- Flexibility: according to the ACE-Improven Flexibility Index, all organisations with high flexibility indices are successful, outperforming their competitors. In part, this competitive advantage is due to the volatility of the global market. In today's precarious environment, the ability to react quickly and appropriately to change is a clear advantage over others.
- Sustainability: Technology offers great potential to accelerate the achievement of the Sustainable Development Goals. Once companies embark on the path to sustainability, they become more efficient and profitable.
- Efficiency: More efficient companies are able to eliminate unnecessary processes and achieve goals with fewer resources. Avoiding wasted time, improving the quality of the activities performed are the basis for the growth of any company.
- Focus on the customer: Customers are one of the driving forces behind the company's growth. Without new customers and sales, the company will disappear. Technology makes it possible to improve the customer experience, with digital processes that facilitate sales and the registration of services and also make customer service more convenient.

How is technology transforming business?
Technological innovations are having a major impact worldwide. In the business world, there is no sector that has not undergone some kind of digital transformation, whether in its processes, business models or even in its organisation and the way it manages its business. Here are some examples:
- Financial sector: such is the influence of technology on banking that the sector has had to rethink its business model. Indeed, it is the Fintech industry that has popularised the X-Tech model.
Undoubtedly, banking has undergone an accelerated process of digitalisation, profoundly changing its product portfolio and its distribution model. Aware that there are still users who are reluctant to abandon the traditional model, banks are exploring new formats with the best of both business models.
- Insurance sector: technology is also changing the insurance business. It is clear that the product they sell has remained the same since its origins, but their customers have not: the consumer behaviour and habits have changed.
Insurers have had to reformulate their proposition, incorporating digital channels to improve their tasks, be more efficient and, ultimately, more profitable. For example, the mobile phone has become an excellent channel for taking out insurance or even for sharing information about a claim with the insurer.
An example of a technology-driven business model is Insurtech, which has popularised the concept of insurance on demand, allowing instant activation of insurance from a mobile device, paying the premium according to usage.

SaaS model: how to grow with lower costs
Technological advances have allowed the development of the "as a service" model. This new modality is a success for companies as it allows them to have greater cost control and the possibility of accessing new technologies that boost their growth.
Under this model, Uanataca has designed the PKI SaaS solution, which becomes a help for those companies that want to provide a reliable digital identity to customers and employees without making any initial investment in infrastructure, equipment or personnel.

With this service, companies will be able to issue and manage the full lifecycle of digital certificates autonomously, easily and without maintenance costs.

E-signatures for growing businesses
Electronic signatures play an essential role in the materialisation of sales. It is not only important at the point of closing, but also at other crucial stages of the sales process.
To achieve their goals, companies need to include e-signatures in their growth strategies for several reasons:
- It is an opportunity to create added value.
- It enables the development of more agile digital processes with the best customer experience.
- It reduces time, going from days to minutes to sign all types of contracts or agreements.
- It reduces costs and optimises resources.
- Increases the conversion rate and customer loyalty.
- Increases competitive capacity with respect to other companies.
In conclusion, dynamic and growing companies are able to create employments, stimulate productivity and increase their revenues. That is why it is essential that they invest in technological tools that help them develop and take advantage of the benefits of operating on a larger scale.