Business digital transformation: how to do it easily and effectively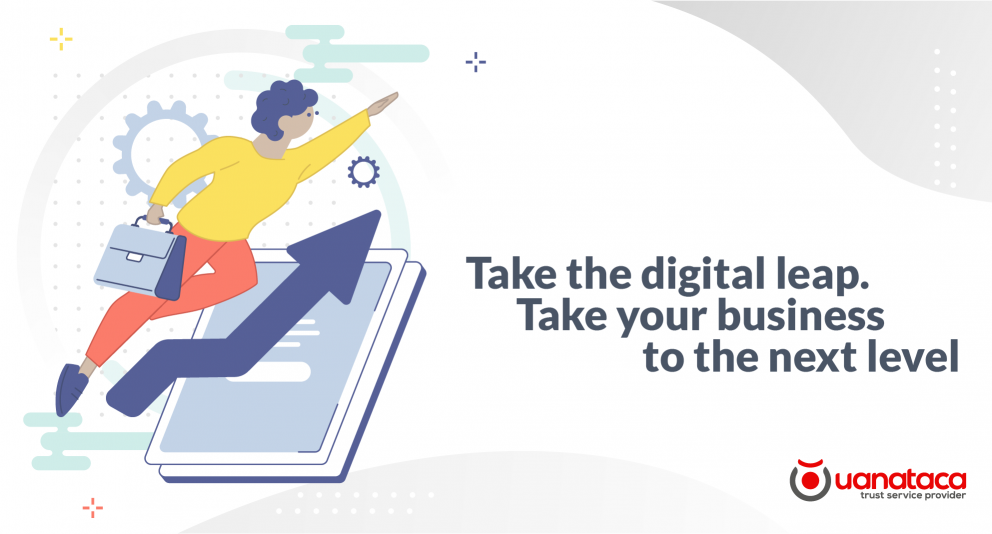 Going to a bank office, signing contracts and other documents on paper or sending letters to all our customers. These and many others are procedures that in recent years have been complemented (or even replaced in many cases) by their digital version, such as online banking, electronic signatures or sending newsletters. All of them are evidence of the rapid digital transformation experienced in all areas, especially in business.
And what is this digital transformation all about? In the context of business, it is a process (increasingly accelerated) in which new technologies are adopted and implemented in all areas and sectors. And why is it being done? As a purpose to change and of course simplify the way of operating and the development of different daily tasks. The more digital transformations a company adopts, the more competitive it will be. And, above all, it will manage to put the customer at the center, optimize resources and be much more productive.
The current global context as an accelerator of digital transformation
To continue to assimilate what digitalization means in the business world, we cannot ignore the period of global pandemic that we have experienced in the last two years. What was supposed to be a progressive transformation reduced to a small group of businesses has become almost an obligation.
Employees who work from home and need to meet virtually, customers who cannot travel to our business, companies that decide to relocate... All this requires not only adopting technology but also a change in business culture. Providing flexibility to multiply productivity should always be the driving force behind the business.
Moreover, 2023 is seen as a key year for achieving a turning point in economic recovery and business growth. And, undoubtedly, the best strategy to win this race is to fully embrace all that this digital transformation has to offer. But above all, we must always be up to date in order to know before anyone else what is to come.

What advantages does digitization bring to the company?
Assuming that any modernizing element will be beneficial for a business, the main advantages of digital transformation are:
- Improved customer reputation and consideration, as well as their satisfaction with our services.
- Possibility of analyzing past and present data to identify trends to be corrected in the future.
- Minimizes human error caused by manual processes.
- Accelerates processes and therefore increases productivity.
- More agile response capacity to any crisis.
- Encourages greater communication between employees, as well as collaboration between different departments.
- Develop better onboarding for employees and customers.
- Strengthens against competition and provides new business opportunities.
At this point, we must ask ourselves whether we would like to perform the tasks in a simpler and more effective way. The challenge is that, in order to obtain all the benefits we are talking about, we need to use work tools that make us master our sector. And it is also essential to have a strong leadership, with specialized professionals who design a well-focused strategy towards effective digitalization. A strategy that also requires constant review to ensure that we do not stray from the path to follow.
Transformation thus becomes one more element for the survival of the company. Rather, it is an essential element that we must be constantly aware of. If modernization is important, it is even more important to be able to adapt and be resilient.

Electronic signature as a starting point
Among the innovative processes to which the company has access, the electronic signature is one of the most relevant.
Replacing handwritten signatures with electronic signatures on any document offers major advantages such as improved user experience, greater mobility and flexibility, cost reduction and increased productivity.

Of course, we only maximize these benefits when we choose a type of qualified electronic signature as the one offered in Uanataca. This provides us with the highest level of security and the maximum legal guarantees according to eIDAS, the European Union Regulation No. 910/2014 is the one that establishes a common legal framework for electronic signatures and other trust services in the European Union.
Other interesting advantages it offers are: ease of integration into any flow or process via API, guarantees a complete digital transformation and what is almost more important, extremely fast and easy to use.
On the way to the implementation of this system, what Uanataca provides is advice, the use of the most innovative technologies and a flexible pay-per-use model, which avoids unnecessary expenses and makes it possible to take advantage of and maximize the economic resources of the business. As we have already mentioned, one of the main benefits of any digital transformation is greater economic efficiency for the company.
Other tools that promote digital transformation
A key resource for the digitization of companies is also cloud computing, a tool that allows us to store data by transferring it over the Internet or another network to an external storage system that can be our own or managed by a third party. For businesses, it also involves a remote backup option where the company can securely transfer and store data files or share them between locations. And of course, it also facilitates teamwork.
Sharing the concept of accessibility and mobility, there are different cloud computing solutions that ensure business continuity and business resilience. Proof of this is the centralized electronic signature, also known as cloud signature. With the centralized signature, the owner can make use of his digital certificate at any time and from any mobile device or PC. In short, it is a mobile solution that facilitates physical independence from the office.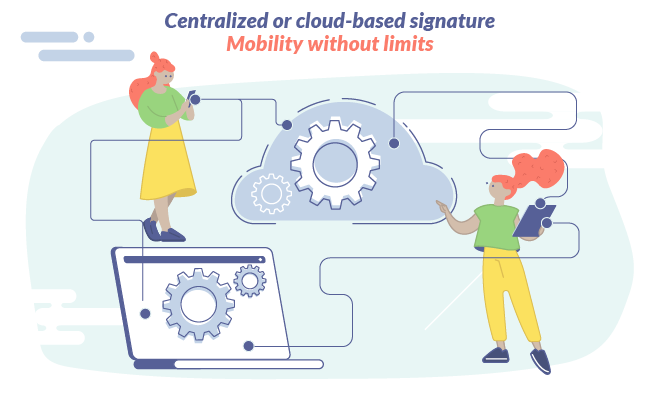 In line with this format, the Blockchain is a key and increasingly widespread system for reinforcing company security. It groups information in blocks that cannot be altered once verified and can only be accessed by members with permissions. As a company, it also allows us to build grouped databases.
And finally, it is also worth remembering other digital tools of daily use and very useful for maintaining fluid communication with customers, employees and any other stakeholder, such as automated e-mail managers or other solutions for organizing group tasks.
As a main conclusion, we will reinforce the idea that digital transformation is the mechanism that makes us survive in an increasingly competitive environment. Only companies that achieve greater digitalization will be able to coexist on equal terms in their markets. It is not enough to do it by halves, technology will not be implemented if there is not a change of mentality in all the agents that are part of the company.