A guide to infallible strategies for SME innovation
11 august 2022
Digital transformation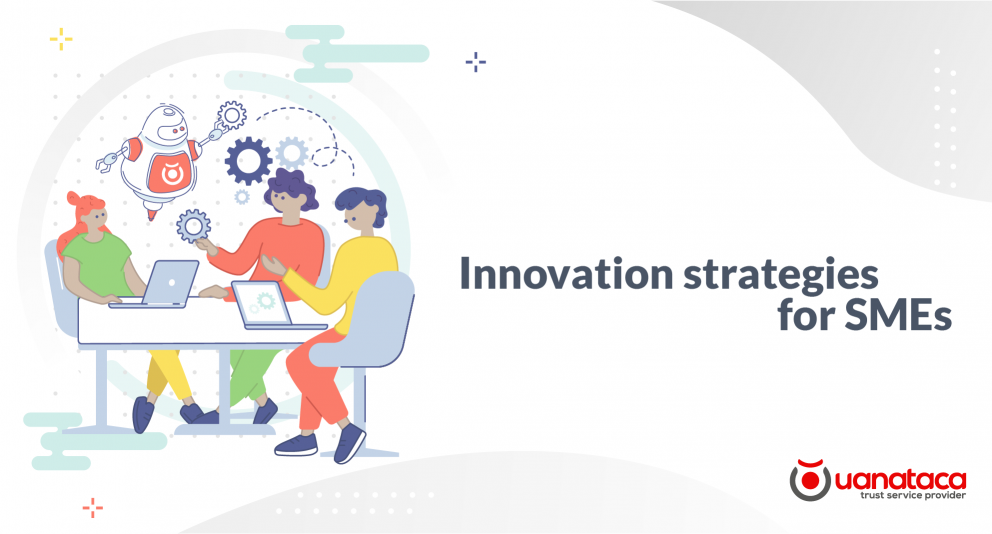 At the present time, for companies in general, the importance of digital transformation is becoming more and more evident. Thanks to it, we can implement new technologies in the business to make it much more efficient. And this maxim is especially relevant for SMEs. They make up a majority of the world's business network and are therefore exposed to even greater competitiveness in all industries and sectors.
Success in today's market comes from the ability to understand how to innovate in these small and medium-sized companies in which evolution is undergoing an even more accelerated process of digitalization.
However, as with any long-term project in business, when it comes to innovation, each SME must develop a solid strategy on how to do it. This is the key to differentiating ourselves from our competitors and adopting new processes, but it is not always easy. If we do not have a plan, we can risk losing a lot of resources.
Does the company need to innovate?
The first thing we must analyze is the sector itself, to see whether it is traditional or not, whether it is already undergoing major transformations or whether it is becoming obsolete and we must change the course of our own company.
Innovation does not refer exclusively to the introduction of new products and services; the company's processes and internal management must also evolve. To achieve this, there are useful tips and strategies provided by organizations such as the country's Chamber of Commerce.
A guide to innovation strategies for SMEs
1. Work on a culture of innovation: in parallel to the change of processes or business model, it is important that we encourage and motivate all the workers of the company to go further.
The company's management must be proactive towards change, encourage collaborative work between the different areas, make it easier to work offshore and, above all, give a voice to all the teams so that their ideas can be put into practice.
Technology is key to modernization, but it needs to be accompanied by creative professionals. Company leaders must make all their decisions based on innovation and make it a priority.

2. Study in detail the sector to which the company is dedicated: in this way we will be able to observe if there are work processes that at first glance seem immovable. The key to differentiation lies in trying to transform them and questioning what we have been doing so far. An example of this could be the frequency of product launches, the sales channels we have... In short, developing everything that helps us to improve the customer experience.
3.- Establish a progressive process: the rate at which we incorporate the transformations will also determine whether we are innovating in the right direction. It is important to set achievable objectives that are consistent with the number of employees in the company and to ensure that they receive the necessary training to apply all the changes. Each small innovation will provide us with lessons for the next one.
In order to add up progress, it is essential to organize meetings with employees and suppliers so that all the contributions that enhance innovation can be put on the table. It is not only enough to know why we need to innovate, but also to master the alternatives available to us.
4.- Analyze the data provided by our customers: although companies have very valuable information about their customers, sometimes they do not pay as much attention to it as they should. And the truth is that it is a key resource not only to innovate but also to make more strategic decisions: From which platforms do they come to us, which are our best-selling products? The answers to these questions will shape our innovation plan.
And in addition to observing the data, it is also important that we listen to the demands and needs of our customers through resources such as online surveys.
5.- Observe the competition and other business sectors: this movement will provide the keys to implement new techniques or even methods already existing in other sectors that have not been put into practice in the company's sector. The secret is not to be afraid to make mistakes and even when this happens, to take advantage of the learning from these mistakes.
6.- Keep the company active: this is achieved by recording everything that is published in newspapers or specialized magazines, visiting fairs and conferences where you learn new ideas that add value to the company and, above all, take advantage of the power of social networks not only to advertise your business, but also to investigate and keep abreast of trends.
7.- Assume that innovation is a constant process: as the company starts an ambitious process of modernization, it is necessary to ensure that this process continues indefinitely over time. The first success in innovation will mark the way forward.
8.- Investing in technological tools: the capacity of an SME to digitize cannot come exclusively from its own resources. It is very important to collaborate with other companies that can be service providers. In the case of Uanataca we help companies as providers of solutions adapted to electronic signature and digital certificates for businesses.
---
At Uanataca, we provide advice on the most innovative technologies and, far from the rigidity of standard rates, we offer in all services a flexible pay-per-use model to optimize the company's resources to the maximum.
Taking into account the needs of companies, we design different solutions that facilitate digital transformation with maximum legal guarantees and with the best user experience.

---
There are numerous incentives for innovation. Throughout the world, different action programs are created that contemplate subsidies and public aid. With the digital certificate many of the most common procedures are streamlined, being able to make the electronic application, as well as the remote signature of any type of document.
In Uanataca we offer different solutions adapted to companies so that all employees have their own digital certificate.

In short, in order to start the innovation process of an SME, we must mark these 3 phases. The first one, in which we answer the question "Why innovate?"; a second one in which there is a short and long term planning that helps us to study the current situation of the company and future forecasts; and, finally, the constant development of an innovation culture with a solid team to carry it out.