7 important digital signature uses in business
14 july 2022
Electronic signature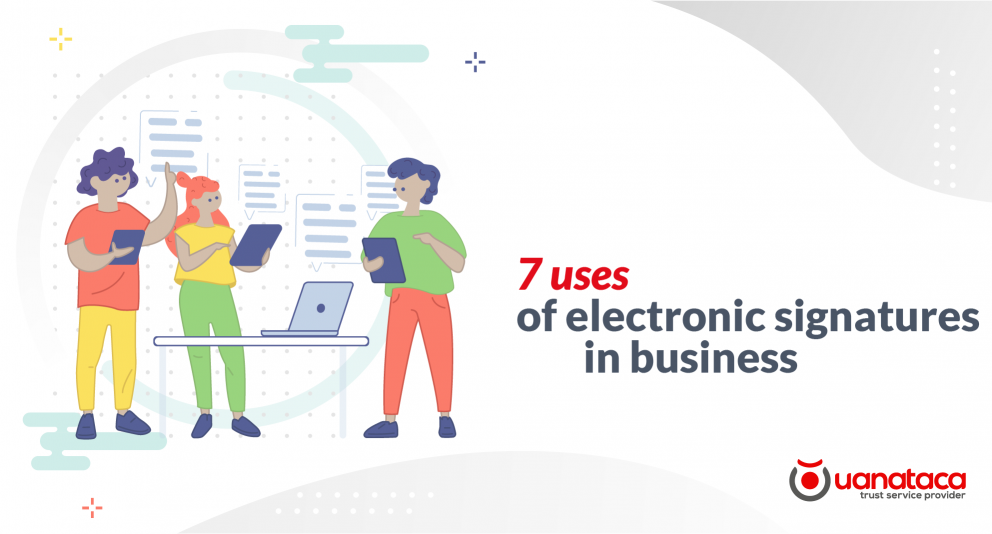 With increasing digitization, there are more and more practical examples of e-signatures in all kinds of sectors and industries. Its advantages have made it a cross-cutting tool that can benefit all areas of the business, from sales to HR.
In this article, in addition to the advantages offered by electronic signatures, we will take a closer look at the way in which they are being used in different sectors and areas of companies.
How does the electronic signature help companies?
An electronic signature is defined as the set of electronic data that the signatory uses to identify himself and express his acceptance of the contents of a document or his intention to authorize a transaction, both in electronic format. In other words, the electronic signature is a legal concept that aims to attest to the signatory's will.
It is an essential digital tool to increase the growth of companies. Whether it is a multinational or an SME, whether it provides B2B or B2C services, and regardless of the business area in which it specializes. It will always be possible to experience greater efficiency in any of its departments, thanks to its multi-sector and cross-cutting nature.
Signature processes between companies, employees, suppliers and partners are simplified, saving response time and money and guaranteeing greater security when it comes to qualified signatures. It is not only enough to digitize internal signature processes,
it is also vital to digitize external signature processes. Whether you are self-employed or an entrepreneur, we are going to show you the uses that this electronic signature has to be applied in your business.

E-signature applications
1.- Electronic signature for obtaining loans and credits

Due to the amount of queues and visits to the bank office that the customer saves, this is one of the most valued uses. Being able to sign electronically both the applications and the contract for loans and credits also saves a lot of maintenance costs in the financial sector.
Knowing the relevance of this use, Uanataca's solutions are focused on improving the digital experience of the customers of these companies. Focused on them, the One-Shot Signature service has been developed. This allows issuing single-use digital certificates to electronically sign all documents included in a transaction from any device.
2.- Electronic signature to formalize contracts at trade fairs and congresses
In this type of events that are held outside the office, the formalization of customers can be harmed if we do not have a fast, simple and secure resource such as the electronic signature. Otherwise, we would have to send the documentation to the client, wait for the client to sign it, resend it again... If we take into account the importance of this type of contracts, it is advisable to use qualified electronic signature, the only one with reversal of the burden of proof and maximum legal guarantees, besides being comparable to the handwritten signature.
This functionality can also be extended to direct marketing actions carried out in shopping center, large cities or airports where the number of people approaching our stand is very high.
With electronic signature solutions such as Firma One-Shot, the customer experience is much more satisfactory in any case. One of the objectives of Uanataca's electronic signature solutions is to put the customer at the center and always think about how to improve their user experience.
3.- Electronic signature to accelerate Human Resources procedures
If there is a company department that can benefit from the implementation of electronic signatures, it is undoubtedly Human Resources. After the integration of electronic signatures, the time previously spent on managing non-digitized documents can be allocated to other tasks that bring extra value to the company, such as managing employee performance or developing motivation strategies.
From the management and signing of contracts telematically (especially useful for remote workers or freelancers), payrolls, terminations, salary increases, or any other document that is part of the labor process between both parties.
Another important new feature is the possibility of issuing digital certificates during the onboarding process to any profile that joins the team. In this way, they are given a professional digital identity and will be able to use this certificate to sign electronically during the entire time they are part of the company. The recruitment of talent is streamlined and we avoid that they can go to other companies with faster recruitment processes.
And in the case of other departments with extensive document management, such as administration, you can also issue and receive invoices or complete purchase orders more quickly.
4.- Electronic signature for company managers
The main innovations that modernize companies always go through their management. In this area of the company, it is especially important to optimize time in order to be able to dedicate it to value proposals that seek profitability. It is also essential to promote technological advances and the digitization process to the different teams.
The possibility of signing documents at any time and place is another resource from which managers, who travel regularly, can derive many benefits. Agreements with international companies are becoming more and more frequent and handwritten signatures are an inconvenience and delay the process, as the parties may be in different countries.
5.- Electronic signature to close agreements with suppliers and external agents
Delocalization is one of the main advantages of the electronic signature and this allows one of its uses to simplify the process of closing agreements with suppliers. The time and resources to be used are reduced from the moment in which we do not need to send contracts by courier or close face-to-face appointments with this type of collaborators. The flow of the commercial relationship will therefore be much more efficient.
6.- Electronic signature for informed consent
This functionality plays a particularly relevant role in the healthcare sector. It deals with particularly sensitive data. And there are numerous processes in which the patient's authorization is necessary, such as, for example, when applying for hospital admission.
In this way, not only does the patient assume responsibility for decision-making, but security is also increased. On the other hand, thanks to the possibility of signing electronic documents from anywhere, the time required to manage the various administrative processes is reduced.
7.- Electronic signature for confidentiality agreements
Data processing is a particularly sensitive factor in a company. Every time a new collaborator or employee joins the company, we need to safeguard this information through a confidentiality agreement. And it is also used in merger or collaboration processes between companies. Otherwise, the company would lack legal protection against any fraud or leakage of intellectual property. This would almost certainly involve a legal process in which the company would have to invest a lot of time and resources.
For all these reasons, it is one of the most recurrent documents with signature and in which the security provided by a qualified electronic signature is more evident than the classic paper one.
Use of Uanataca's electronic signature by business sectors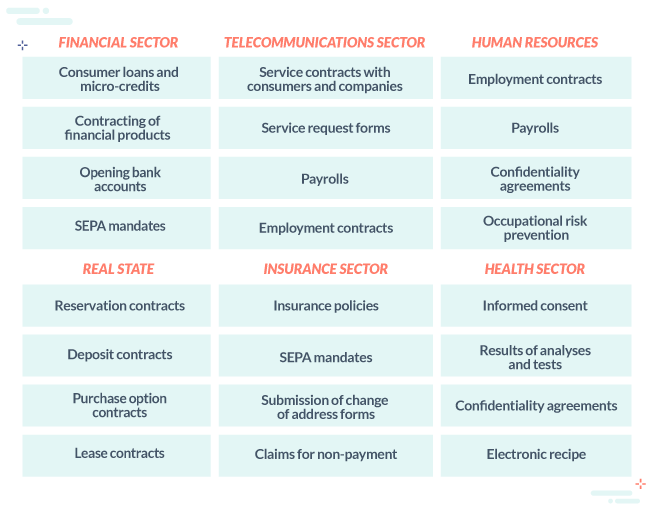 Why manage your electronic signature with Uanataca?
At this point, the many uses of electronic signatures are obvious. But it is important to clarify that we can only enjoy its benefits if the integration of this signature is done correctly.
At Uanataca we provide value to companies through advice, the most innovative technologies and a flexible pay-per-use model, which avoids unnecessary expenses and allows us to take advantage of and make the most of the economic resources of the business.
In short, whatever our area of business, the main benefit of the use of electronic signatures is an increase in productivity, both for the company as an entity and for each of its employees and collaborators. In addition, we will also gain in relation to the environmental impact that our company generates, thanks to the paperless processes that Uanataca's solutions guarantee us.