Aspects to consider when evaluating an electronic signature solution for business
9 september 2021
Electronic signature
Although it is a tool that helps to boost business, in some cases, a poor choice of the type of signature and/or the most suitable solution for electronic signatures are often the main reasons why companies fail with the implementation of electronic signatures.
In this article we talk about the risks of choosing the wrong electronic signature solution, what aspects should be taken into account for the right choice and what are the advantages of Uanataca's electronic signature solutions.
Electronic signature: risks for your business derived from a bad choice
The implementation of an electronic signature solution in an organization is not a trivial matter. A wrong choice can cause significant financial losses and even, sometimes, reputational crises and damages of various kinds to customers, employees and other actors present in the business activity.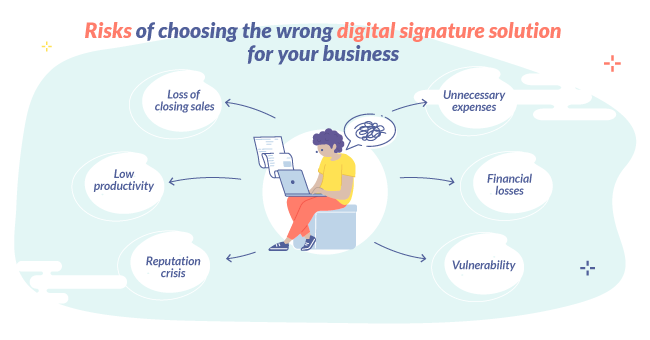 Beyond possible reputational crises, an inadequate choice could generate other considerable problems for your organization. Proof of this is the recent judgment 74/2021, in which the Spanish courts acquitted the defendant of the payment of a loan that was not signed by means of a qualified electronic signature certificate.

To avoid such harmful situations, it is necessary to assess the risk that we are willing to assume when choosing one type of signature or another. Therefore, in those documents in which it is necessary for the electronic signature to stand on its own as full proof and even reverse the burden of proof, the qualified electronic signature is the most appropriate option.
In addition to the appropriate type of signature, when a company decides to integrate electronic signatures into its processes, it must choose the solution that best suits its needs and contributes to its development. To this end, when making the choice, it must evaluate decisive aspects such as the particular guarantees offered by the provider, security and privacy, as well as other aspects relating to services such as their agility, simplicity and user experience.
No initial investment, simple to use and with full guarantees: these are Uanataca's solutions
In the current scenario, companies must improve their ability to react and be flexible to any change in the market. To achieve this, it is necessary to have accessible digital tools that allow them to redesign the relationship with the customer, reduce costs and adapt to new forms of non-face-to-face work.
If we want to successfully digitize the signature processes of our business, we must have solutions that are adapted for companies. To this end, Uanataca has developed a wide variety of innovative and usable solutions that add value to the business, regardless of its size or sector in which the company operates.
Advantages of Uanataca's electronic solutions
Tailored solutions for companies

Uanataca's electronic signature solutions are characterized by being global and transversal, achieving their integration in a simple way in multisectorial companies of any size.
Sectors such as the financial sector, which is in the midst of evolving towards a more digital model, the telecommunications industry or healthcare, are examples of companies that can benefit from the use of Uanataca's solutions. 👉 Get to know the most common use cases by sector.
Uanataca also designs specific solutions in response to the real needs of companies in the new business environment, characterized by the demand for agile, versatile and accessible services from anywhere.
Within the offer of solutions oriented to companies, there is One-Shot Signature, designed to facilitate the electronic signature of documents to any user with a smartphone, computer or Tablet.

A flexible and scalable model

Until now, lack of budget was the biggest obstacle to digitization in companies. The high initial investment for the infrastructure, together with the rigidity of the standard rates for some electronic signature services, prevented most SMEs from accessing the technological resources to digitize their processes.
With Uanataca's services, companies do not have to worry about the initial investment, paying only for the services consumed. This new pay-per-use model, prevents companies from incurring fixed costs for services that they sometimes do not consume.
📢If you want to reduce unnecessary expenses in your company, be sure to read this article: 5 ways to reduce expenses in your company.
Another of the attributes to value when choosing an electronic signature provider is the scalability it offers. As a business grows, it needs tools that are capable of growing at the same time without losing qualities. To this end, the trusted services offered by Uanataca can complement each other and provide 360º coverage as the business grows.
Easy integration via REST API
The integration of an electronic signature solution should not be a complex or traumatic process in any business. Therefore, the integration of Uanataca services for the management of digital certificates, electronic signatures or time stamping, is done quickly and easily through the use of our REST APIs.
In the integration process, the testing environment guarantees the client the contact with the service operation. In addition, during the whole process, Uanataca offers its customers the appropriate support from professionals with extensive experience in electronic signature and digital certificate services.
Security and maximum guarantees
In this article we have talked about sentence 74/2021, a case of passivity or lack of response from the supplier to answer the requirements that were formulated, as established in the sentence. Therefore, the reliability of the supplier and the guarantees it offers is an aspect to take into account when evaluating an electronic signature solution.
When choosing a supplier, it is not enough just to assess whether it is a widely distributed platform. Particular attention must be paid to the reliability it offers, the support it provides and its ability to provide advice during all stages of the digitization process.
In this respect, Uanataca's services guarantee maximum document confidentiality, security and protection guarantees thanks to integrated services audited under the European eIDAS regulation and the ISO27001 standard.

In addition, Uanataca can provide its clients with expert opinions that facilitate the validation of the data contained in an electronic signature, as well as the validation of the signature as a qualified electronic signature, which can be presented in court together with the document.

Benefits of using Uanataca's electronic signature
- Increases productivity 📈. In terms of employees, productivity is synonymous with performance and efficiency. As an influencer, e-signature and strong authentication save time and increase employee efficiency.
- Reduces costs 🔌. Eliminating the preparation, mailing and management of paper-based paper documents saves on staff hours, materials purchasing and equipment maintenance costs.
- Increases sales 💰. Through electronic signature solutions such as One-Shot Signature, the customer abandonment rate is significantly reduced thanks to an end-to-end digital process, maximizing the percentage of signed contracts.
- Eliminates paper ♻️. Replacing paper with electronic signatures is a commitment to the environment, employees and customers that strengthens the company's image, in addition to reducing costs.
- Improves the customer experience 👌🏻. The electronic signature provides a seamless digital process that simplifies and reduces purchasing phases, increasing customer satisfaction.
- Adaptation to new working methods 👩🏾💻. The use of electronic signature offers the team a 100% online experience and the possibility of signing any document anytime, anywhere.
In conclusion, the success of digitizing business signature processes depends to a large extent on the choice of an appropriate electronic signature solution. In a business, it is important not only to look for speed, but also for legality and protection when signing documents. That is why Uanataca's signature solutions are a good option, since they combine speed and security without having to give up the best customer experience.
---
📧 If you are interested in receiving advice on which electronic signature solution is best suited for your business, or would like to request a demo of any of our services, please contact us.