58% of business leaders have implemented e-signatures to support their businesses
17 november 2022
Electronic signature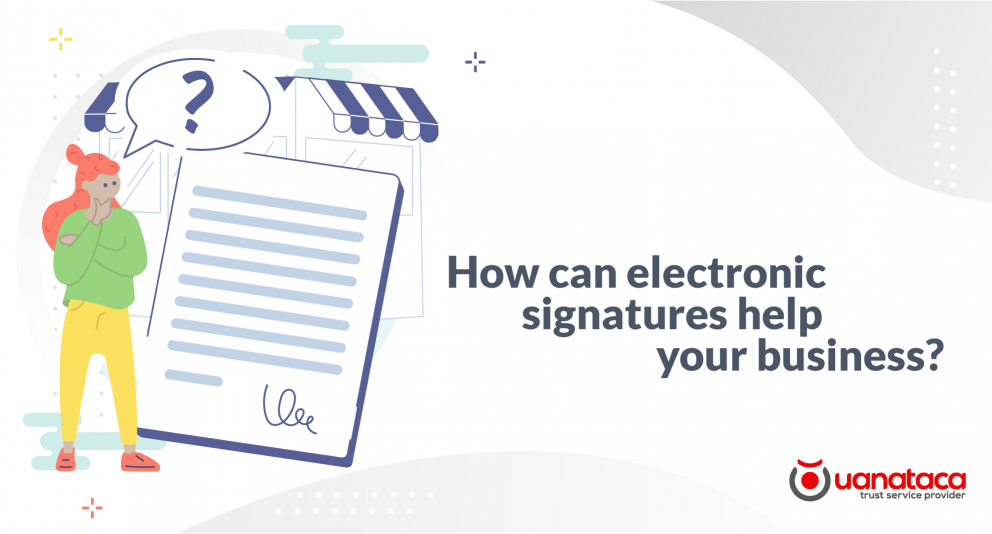 Certainly, the COVID-19 pandemic has been a catalyst for driving the digital transformation of signature processes. While during the crisis it was used as a measure to ensure business continuity, electronic signatures are now fully integrated in all departments of companies.
If you have a business, it is important that you know the value that electronic signatures can bring. In this post you will discover its advantages as well as a series of recommendations to implement it successfully in your business.
E-signatures gaining traction among companies worldwide
According to the A Spotlight On E-Signatures survey conducted by Adobe, 58% of business and technology-focused business leaders implemented tools such as e-signatures during the pandemic. Similarly, 60% of the executives who participated in the survey said that this tool has become a key factor in ensuring the continuity, agility and efficiency of their businesses, products and services.
The pandemic has reaffirmed the importance of electronic signatures. With the global health crisis behind us, business leaders have seen the need to maintain and expand rigorous digital identity validation and authentication mechanisms for consumers, suppliers and employees alike.
The evolution to a virtual work environment and the new requirements of an increasingly digital customer have forced companies to further increase their e-signature capabilities, moving from a recommended practice to a business necessity.
Being agile and cost-effective, e-signatures enable companies to maximize and unlock more benefits from their digitization initiatives and achieve a clear competitive advantage in the markets in which they offer their products or services.
Regulatory support and the existence of specific regulation is another factor that is making companies more confident in the security of e-signature use. The Adobe survey states that only 13% of respondents say that the lack of regulatory support is a challenge for the deployment of e-signatures in their organization, compared to 24% before the pandemic.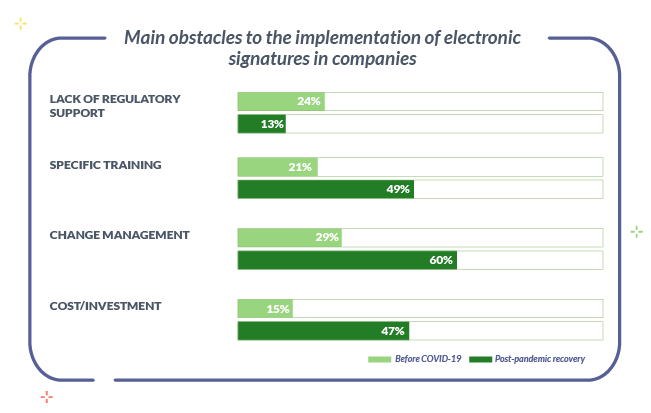 Analyzing the table above, it is possible to affirm that, despite the confidence generated by the existence of a specific regulation, there are other aspects that slow down the adoption of electronic signatures and that have increased in importance after the pandemic.
As we will see in the following section, Uanataca's electronic signature solutions have been developed taking these aspects into account, eliminating the main drawbacks that usually prevent digitization from being effective.
Reasons why companies prefer Uanataca's e-signature solutions
Uanataca's solutions have been designed with one goal in mind: to build a digital ecosystem that makes signature processes accessible, fast and secure for any person or organization. In this way, we achieve that our solutions guarantee the highest legal security, reducing fraud, accelerating the digital transformation and contributing to the reduction of paper use. The main advantages are listed below:
Qualified electronic signature: the most secure signature
The eIDASRegulation (Regulation (EU) No. 910/2014) represents an important regulatory support for the use of electronic signatures. Of the 3 types of electronic signature defined by eIDAS, the qualified electronic signature is legally the most robust and offers the highest evidentiary quality. It is followed by the advanced electronic signature, which offers an intermediate level of security. It is very appropriate in those cases where legal and evidentiary value is required, but not the highest level.
Easy-ot-use and easy-to-implement solutions: no effort or prior knowledge required
Uanataca has designed an ecosystem of intuitive and quick implementation solutions, two attributes that favor autonomy without the need for specific training.
On the one hand, the user will not need any previous knowledge to be able to quickly and securely use the electronic signature. The solutions offer an intuitive and fluid experience for any type of user without the need for support, favoring the closing of sales and/or contracting of services.
On the other hand, Uanataca's solutions are easy to integrate into any flow or process through a powerful API.
Not any extra fees and monthly fee: pay only for what you use
The need to make a very high initial investment and the fixed costs imposed on models that use standard fees represent a barrier to the adoption of end-to-end digital signature processes.
Uanataca proposes an innovative, flexible model tailored to the particular needs of each company. Every business is different and so is our pay-per-use model, allowing you to pay only for what you actually consume. In this way, profitability is always assured.
Key recommendations for the successful implementation of electronic signatures in your business
- Recognize the importance of e-signatures in achieving competitive advantage and ensuring business continuity. It is essential that decision makers recognize the value of e-signatures in supporting organizational resilience efforts. It is also essential to understand their contribution to digital maturity and ensure efficient change management.
In economic terms, e-signatures are a cost-effective tool in the short term and quick to implement. This is not the case with other more complex and time-consuming digitization initiatives.
- The electronic signature is as valuable in the front office as in the back office
The electronic signature is a tool that generates great benefits in the back-office as well. It is a cross-cutting tool that spans legal, financial, human resources, accounting and other areas.
Organizations should identify key use cases and take advantage of this opportunity to maximize benefits. The application of electronic signatures in the back-office avoids slowing down or delaying the business as happens with manual processes.
- Electronic signatures are a profitable investment over time
When adjusting budgets, technology managers must prioritize projects, processes and technologies with an immediate return for the company. E-signatures are both an immediate and long-term sound investment.
It also ensures continued profitability if solutions such as Uanataca's are chosen, with a pay-per-use model that adapts to the needs of companies in a changing and unpredictable environment.
- Augment digital tools to adapt to the environment
Business and technology leaders must adopt a people-centric approach. Success depends largely on customer satisfaction and the ability to attract and retain talent.
By using e-signatures, new models of remote working are facilitated. Similarly, the choice of e-signature solution will directly influence customer satisfaction. It is therefore essential to support change management with usable, simple and secure tools.

In short, we can say that all companies face the challenge of evolving towards a digital model. It is necessary to transform the processes to connect the consumer in the most reliable and secure way, but at the same time in the most friendly way.