8 principles for successful entrepreneurship
23 december 2021
Digital transformation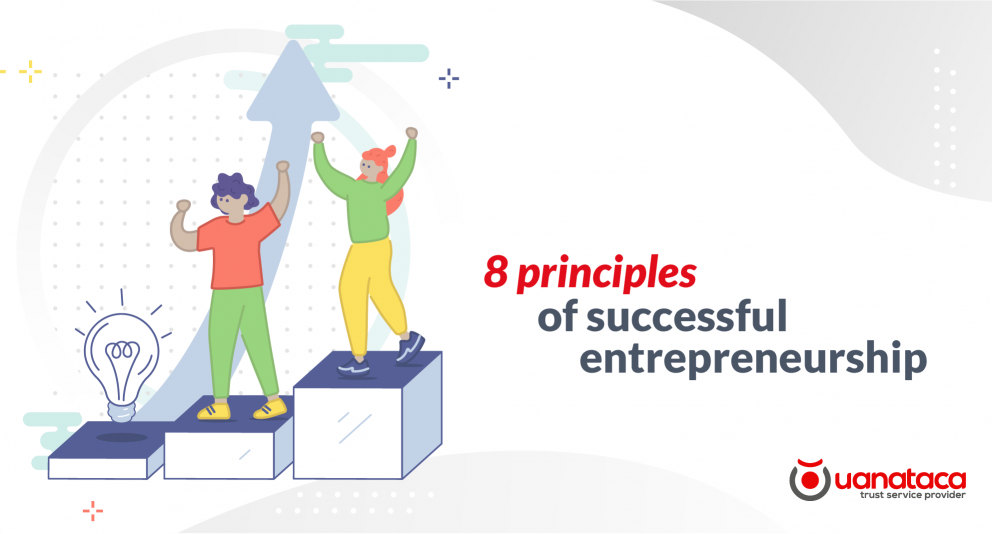 In 2021, searches on Google - the world's most popular website and the world's most used search engine - for how to start a business surpassed those for how to get a job. This trend is a reflection of the growth that entrepreneurship is experiencing around the world. However, not all entrepreneurs succeed: 7 out of 10 new businesses close during their first 3 years.
In this article we discuss the 8 basic principles that characterize those emerging businesses that manage to consolidate and which are the most promising sectors.
The current landscape of entrepreneurship: entrepreneurship in times of pandemic
Entrepreneurship will grow again in 2021 due to the pandemic. In Spain, data from the National Statistics Institute (INE) reveal that the creation of companies in the first half of 2021 was 57.6% higher than in 2020. Entrepreneurial intentions tend to be sensitive to the economic cycle, growing in times of crisis in times of crisis.
In times of crisis, you have to be resourceful. In this sense, the pandemic has meant a paradigm shift and even a transformation in business models to adapt to new needs and take advantage of new opportunities.
"The entrepreneurship sector has come out of the pandemic in good health," says Lluís Soldevila, researcher and creator of the report Entrepreneurs after COVID-19.
In the midst of the pandemic, some of the emerging businesses developed with a short-term vision. It is very likely that, once the crisis is contained, these businesses will disappear if they do not know how to recycle themselves. However, those that were able to identify long-term needs and new habits will endure, creating a digital disruption.
In this sense, some of the sectors that seem most likely to grow are online education, health and wellness, SAAS and remote work tools, e-Commerce, online gaming, e-Sports and streaming platforms, pharmacy and laboratories, and coworking.
Any business, directly or indirectly related to these sectors and incorporating technology as a differential value, has the potential to grow and consolidate over time.
8 principles of entrepreneurship to achieve success
In entrepreneurship, especially in times of pandemic, leadership and innovation are favorable qualities for success. However, they need to be underpinned by fundamental principles and practices to create a profitable business with a future:
1. Test your idea 💡
During their first 3 years, 7 out of 10 new businesses fail and, although there are several factors that contribute to premature closure, not testing the proposal may be one of them.
Before you start developing your business, investigate whether your idea will really resonate with the market. Talk to people who are in the industry and in the market you want to target. Explore whether your proposal meets real needs, not only in the short term but also in the long term. Conduct surveys and collect feedback from potential customers.
2. Pick the right market 🧩
This principle refers to the importance of knowing the market where you intend to compete. It is vital to invest in researching possible markets in order to be able to correct and make adjustments, otherwise, you will leave a critical phase in the hands of fortune.
In your research, include aspects such as: identification of the main competitors and their competitive strategies, identification of key customers, the legal framework, the degree of innovation and even the price you should put on your product or service. In short, it is about having an overview of the market and how you compete in it in order to minimize risks.
3. Draw up a value proposition 💎
The value proposition materializes the company's strategy for each customer segment. You must develop the most relevant legal, strategic, organizational, operational, financial and marketing aspects of your venture.
The value proposition encompasses a series of functional and emotional values that the company brings to the customer. That is, what you can offer and what differentiates you from the competition that will make the customer choose the company over its competitors.
4. Customer-focused 🎯
The fourth principle is paramount to ensure the long-term viability of the company. Corporate development is directly related to the ability to increase the well-being of customers: if the company is not able to satisfy their needs in a favorable way, the business is not sustainable.
Customer focus is a quality that begins with an in-depth analysis of customer preferences and needs. As a result, the company will be able to create memorable experiences that will result in benefits: satisfied customers, higher levels of consideration, long-term loyalty and satisfaction, which will translate into recommendations.
5. Teamwork 🔗
In a business, it is essential to work as a team and know how to delegate to others in order to cover all the necessary aspects of a business.
The goal of teamwork is to bring together a group of people with similar abilities, intelligences, ideas and skills in order to meet objectives, increase motivation and creativity.
Some of its benefits are the creation of synergies, facilitating empowerment, promoting flexible work structures, encouraging responsibility and involvement, and promoting a sense of achievement, fairness and brotherhood.
6. Eliminate unnecessary expenses 💰
It is important to maintain good financial health. To achieve this, the company's expenses must be analyzed: keeping an exhaustive control will allow you to detect unnecessary expenses without renouncing an efficient structure. In a company, resources must be used intelligently and waste must be avoided by all means.
📢Discover 5 ways to reduce costs in your company
7.-Ability to adapt 🪁
The market is constantly evolving: consumer preferences, needs and habits undergo progressive changes under normal conditions. The pandemic has shown us that the speed of these changes can accelerate at a dizzying rate under certain conditions.
One of the main factors that causes a company to fail is the resistance and refusal to adapt to change. The market is constantly changing and technologies are advancing rapidly, so companies must adapt and even anticipate these situations in order to achieve higher levels of consideration vis-à-vis competitors.
8. Innovation and technology 💻
Innovation and technology are positioned as agents that enhance entrepreneurship. In a venture, technology should be used as a proactive resource that drives the development of new products and services that meet the needs of a global, dynamic and extremely changing market.
There is no doubt that both innovation and technology favor the creation of a differential value proposal for the client. At the same time, they make it possible to increase efficiency, democratize access to basic tools and resources for the development of business activities and achieve greater productivity.
In this way, technology and entrepreneurship come together to invite entrepreneurs to develop innovative and creative processes to improve processes, reduce costs and optimize resources.
Electronic signature: concept and advantages
The electronic signature is an opportunity for entrepreneurs to provide greater added value. This tool allows the development of innovative and agile processes and the best customer experience, all while reducing costs and optimizing resources.
What is an electronic signature? An electronic signature is a set of data in electronic form that you can use to identify yourself as a signatory. In this article you will discover the 3 types of electronic signature established by the eIDAS regulation and will help you choose the one that best suits your needs.
---
Benefits of Uanataca's electronic signature for entrepreneurs and small businesses
1. Paperless: eliminates a polluting resource.
2. Reduces expenses and management time
3. Avoids unnecessary travel, sign from anywhere.
4. Improves the signing experience: your client will value it.
5. Strengthens brand image
6. Pay-per-use: no fixed fees
---