Digitalization as a key factor in developing the potential of the sales team
25 august 2022
Digital transformation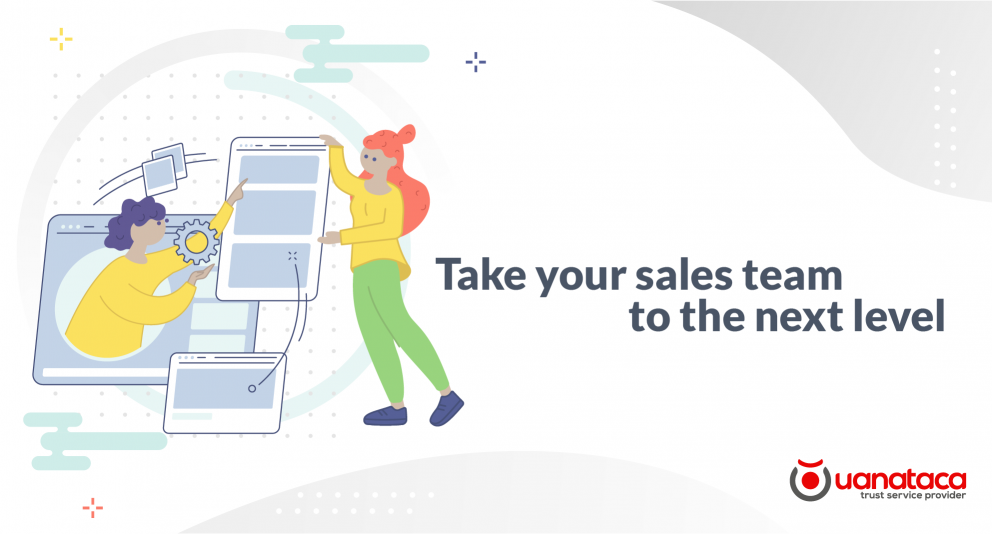 When digitizing a business, it undergoes a process of change from analog to digital. Digitization implies that companies use technology to interact with people, both external and internal, and to solve their needs. To achieve this, it is essential to transform and improve processes and activities within the company with the help of digital tools.
And if this digitization is key in the company as a whole, it is even more so in the commercial area. Customers are increasingly familiar with technology and immediacy, and this is the best way to get closer to them and respond to their demands in a more agile and even delocalized way. Sales processes are increasingly taking place in digital environments and only companies with a commercial strategy along these lines will make progress.
Inevitably, it will involve a process that is extended over time and involves extra effort, but its benefits are more than demonstrable. Through digitization, the costs of a company are greatly reduced, as well as response times and what increases greatly are sales.
How can the commercial area be digitized?
The first step will always be to carefully study the changes that have occurred in our industry. Even before the situation given by COVID-19, the dynamics of making purchases by customers was already changing.
When we want to contract a service or obtain information from a company, we rarely go to a physical office. The most common thing is to do a search on the Internet and social networks, compare offers, read opinions... According to TSL Marketing, more than half (57%) of the consumer's purchasing process has been completed before the company has had the opportunity to interact with him.

In this sense, in order to know who we should impact and that our message is received positively, we must personalize the approach to customers, study their preferences and habits. Our potential customer must be at the center of the strategy and what we tell them must be useful and attractive to them.
The next strategy is to make the sales team more autonomous so that it can work in a digital environment with the help of a powerful database that improves the flow of information between the different professionals in the department. It is very important to involve the team in the digital transformation process, with appropriate training in digital sales techniques, setting short-term objectives, encouraging motivation, incorporating new sales channels, working with newer formats such as video.

It is also very important that the sales and marketing teams work together, which is known as sales marketing, to work on a strategy to generate increasingly qualified leads. This is achieved by precisely defining your ideal customer profile.
And of course, in addition to acquiring a new culture of innovation in the business environment, it is important to know how to select the most suitable digital tools for the sales department, which are the following:
- An electronic signature solution adapted for the commercial and sales area, such as those offered by Uanataca.
- Marketing and sales automation tools
- Email Marketing tools
- Web analytics tool such as Google Analytics
- Open channels on Social Networks (Linkedin, Facebook, Instagram...)
- A CRM (a customer relationship manager)
Examples of digitalization in the commercial area
This shift to digital has brought with it new commercial and sales strategies such as:
- Social selling: using social networks to engage with customers, improve the perception of the company, obtain leads and ultimately promote and increase sales.
- Marketing automation: with the help of software, this allows the sales team to create personalized interactions in channels such as newsletters or mobile messaging communication. With this automation of repetitive tasks, salespeople gain time to focus on other more strategic actions.
- Digitized customer service: this provides faster responses to any problem through live chat, email, social networks, telephone, among others.
- Automated bid generation: where there is no need to manually update bids for specific keywords or ad groups.
- Technological solutions adapted to mobile technology: with them, salespeople can operate outside the office, for example, closing contracts at trade fairs or conferences.
Uanataca's electronic signature solutions help to put this task into practice in a secure, effective and accessible way. We offer an electronic signature service that is easy to integrate into any process in the commercial area of the company. In addition, it has a practical pay-per-use system. The electronic signature in the commercial area can also be used to close sales proposals, partner agreements, contract renewals, loan documents, among others.


- Use of private clouds: information relevant to the department such as offers, orders or presentations can be stored there and accessed securely from anywhere.

- Data analysis and processing: thanks to the use of commercial dashboards we can know the needs of customers and carry out more segmented campaigns that fit the profile of each one of them.
Advantages of digitalization for the commercial area
Advantages of digitalization for the commercial area
- It makes the department more competitive: the greater the digital management of the commercial area, the faster the response to market changes, to trends imposed by customers... In this way it is easier to prevent services or products from becoming outdated. In addition, the cost reduction of this digitization process also manages to increase competitiveness.
- Get new sources of revenue: digital tools are very important when registering different business opportunities. It is common to implement a CRM (Customer Relationship Management) tool. This is a customer management software that centralizes all interactions between the company and its customers. It collects all the information of commercial operations to create a history that allows to better understand customers and anticipate their future needs.
- Improves productivity: digitalization has favored the existence of marketing strategies related to customer service and mailing that help to save costs and time, especially in the first contacts with the customer, which are key to customer acquisition. Processes are not only more efficient for customers, but also for internal organization. Technological advances make it possible, for example, to work from more locations than just the office.
- Improves internal collaboration: with a digital system that allows us to work online, the members of the commercial area can analyze at any time and place information as relevant as data and opinions received in forms, social networks... In this way, the team works more cohesively and improves conversion and loyalty.
- It improves the customer experience: both with customer service and online sales, a higher retention rate is achieved.

As a main conclusion, digitization is now more of a necessity than an option. Adapting to technological innovations is the key to being more competitive, building customer loyalty and, above all, maintaining a fluid relationship with regular customers.
And it is also important to clarify that it is not only about implementing digital tools. These must be accompanied by a new work culture that makes us make the most of the opportunities to get closer to the customer. The more resources the commercial area has, the easier it will be to achieve effective sales and loyal customers.