Europe's Digital Decade begins with digital transformation in business
1 september 2022
Digital transformation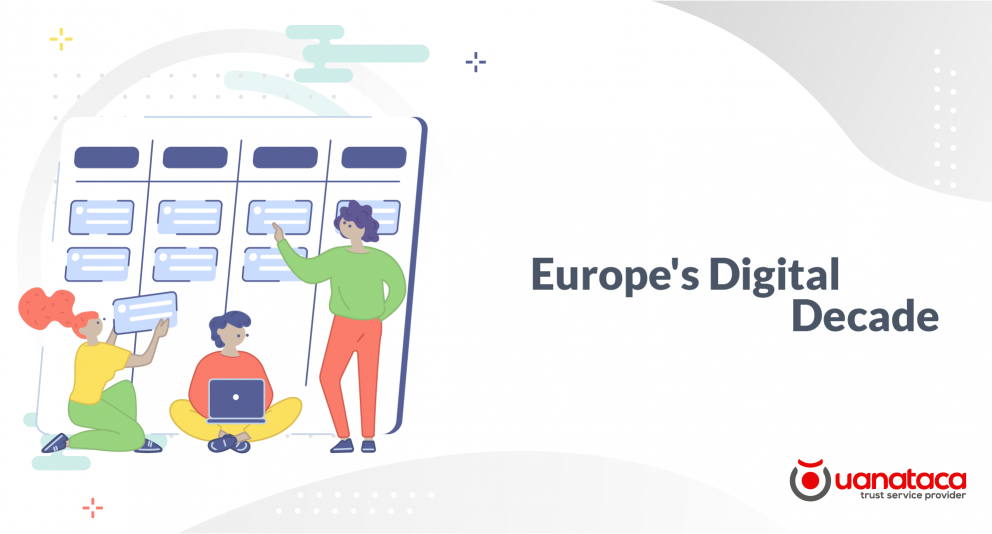 In terms of digitization, all Member States are making progress, but the degree of digital maturity is still very uneven. Through the development of the Digital Decade, Europe's policy agenda for digital transformation between now and 2030, Europe hopes to digitally empower people and businesses for the future ahead.
In this post we address the goals of Europe's Digital Decade and how digital transformation in business becomes an essential focus of action to achieve a single, competitive market.
What is the Digital Decade
Technology and digital infrastructures are increasingly present in our private lives and business environments. In the face of this rapid advancement, Europe has set out to empower businesses and people for a sustainable, more prosperous and human-centered digital future. And to this end, the European Commission has developed the Digital Decade policy agenda, with a vision and pathways for Europe's digital transformation between now and 2030.
The policy program is based on the Digital Compass. The compass uses 4 action points to identify the main objectives:
1. a digitally empowered population and highly skilled digital professionals;
2. secure and sustainable digital infrastructures;
3. digitization of public services;
4. digital transformation of businesses.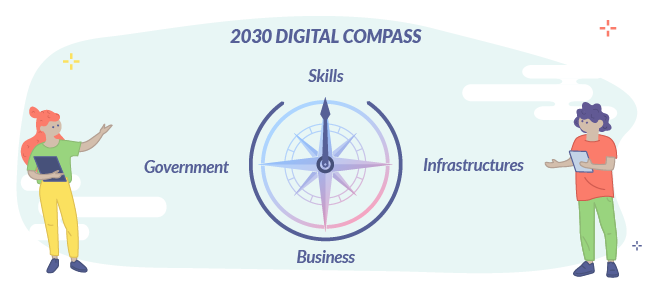 The policy program establishes the monitoring mechanism with respect to the common objectives and targets proposed to achieve a level of digital digitization in Europe that will enable it to achieve independence from other systems and empower citizens and businesses.
This program creates a framework for cooperation in which the Member States participate. Firstly, the European Commission will develop, jointly with the Member States, the projected trajectories. In turn, each State will propose strategic roadmaps at the national level.
The cooperation mechanism will have different elements:

- a common and transparent monitoring system based on the Digital Economy and Society Index (DESI) to assess progress towards the 2030 targets;
The Digital Economy and Society Index, or DESI, summarizes indicators on Europe's digital performance and measures countries' performance on digitization. To measure the goals set out in the Digital Decade, DESI has been aligned to the four cardinal points of the Digital Compass 2030, adjusting it further in the future.
The DESI reports present data from EU countries in specific areas such as human capital, connectivity, digital technology integration and digital public services. Both the DESI 2022 report and the different country reports are now available for consultation and/or download here.
- an annual report on the progress of the Digital Decade, which will assess progress and provide recommendations for action;
- multi-year Digital Decade strategic roadmaps in which Member States will present the policies and measures planned or adopted to achieve the 2030 targets;
- a system to support the implementation of multi-country projects;
- an accessible and structured framework to discuss and address areas where progress is insufficient.
Current Context: Global Challenges and Cooperation
Current Context: Cooperation in the Face of Global Challenges On the road to the Digital Decade there are many challenges associated with digital transformation. The EU must address them by increasing its strategic autonomy in technology and developing systems that protect citizens and businesses. Among its top priorities is also bridging the digital divide.
To varying degrees, all Member States are making progress, but the overall picture of digitization is mixed. The gap between the leading EU candidates and those with the lowest DESI scores is too large.
In terms of improvements, most EU Member States have made good progress in the last 5 years. However, cooperation between the different countries and communication with the Commission is key to meeting the objectives of the Digital Decade.
While addressing strategic weaknesses and accelerating actions to improve the situation, Europe will need to build on its greatest strength: an open and competitive single market.

Digital transformation in business as an action target of the EU Digital Decade
Within the Digital Decade policy agenda, enterprises represent one of the four key action points for digital transformation. For them, the EU has set ambitious targets:
- Technology adoption: by 2030, three out of four companies should be using cloud computing services, Big Data and Artificial Intelligence (AI).
- Innovation and entrepreneurship: an increase in growth start-ups and funding is expected to double the number of unicorn companies. That is, doubling the total number of technology companies that reach a value of $1 billion at some point in their unlisted capital raising process.
- Laying the foundations for digitalization: the aim is that more than 90% of SMEs should reach at least a basic level of digital intensity.

The digital transformation of companies will depend to a large extent on their ability to adopt new technologies quickly and widely and on their degree of maturity. Even those industrial and service ecosystems with very low or no digital maturity will be boosted by the European Union.
It is expected that, by 2030, digital inclusion will enable most businesses to make more efficient use of resources, boosting material productivity and reducing vulnerability to supply shocks.
SMEs play an essential role in this digital adoption process for several reasons: firstly, because they represent the majority of EU businesses; secondly, they are a constant source of innovation, in some cases disruptive.
The European Union is launching different programs to facilitate the digitalization process in business. One of the most popular is the Digital Europe Programme (DIGITAL) a new EU funding program to bring digital technology closer to businesses, as well as citizens and public administrations.
The Digital Europe Program will provide strategic funding to respond to the different challenges that, to a greater or lesser extent, businesses face. They offer support to projects in five key capability areas: in supercomputing, artificial intelligence, cybersecurity, advanced digital skills and ensuring a broad use of digital technologies in the economy and society, including through Digital Innovation Hubs.
The Digital Europe Program will not address these challenges in isolation. There are other EU programs that complement the available funding, such as the Horizon Europe programme for research and innovation and the Connecting Europe Facility for digital infrastructure, the Recovery and Resilience Mechanism and the Structural Mechanism, among others.
There are numerous incentives for making the digital leap. With the digital certificate, many procedures to access them, such as applying for grants or subsidies, can be done remotely.
In Uanataca we offer different solutions adapted to companies so that all employees have their own digital certificate.


In conclusion: the Digital Decade will create a self-sufficient, sustainable and prosperous ecosystem. In the future, there will be more highly skilled digital professionals, becoming a key asset in the digitization of business.
The effort to bring gigabit connectivity to all EU households and the populated areas served by 5G networks will change the way consumers relate to businesses, their habits and, in general, changes in the market.
In the field of public services, the essentials should be available online and all citizens should have access to their electronic medical records, as well as to an electronic identification solution.
And in this new, more digital and connected system, businesses will play a crucial role. To succeed, they need to define their own path and move with determination towards the Digital Decade.