🚀 Successful business in time of crisis: 3 key strategies
5 may 2022
Digital transformation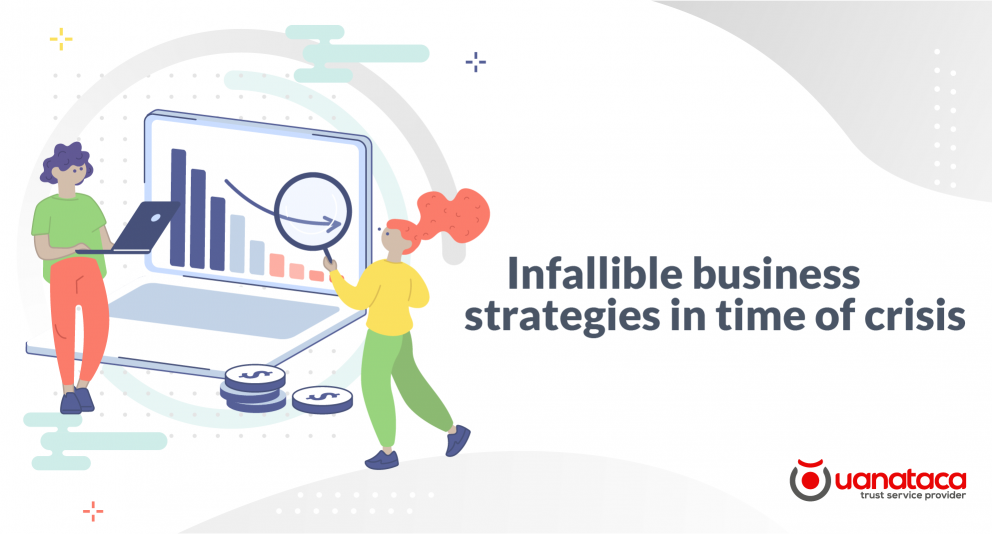 Time of crisis do not affect all businesses equally. Some companies can be seriously affected, even making losses and, in some cases, disappearing. On the other hand, those companies that are more flexible and digitized are able to remain profitable, reaching high levels of development.
Be sure to read this post if you want to know what strategies you should follow to maintain profitability in your business, even in time of crisis.
Which companies overcome difficult times?
Crises are nothing new for companies. In fact, numerous crises have tested the solidity of businesses, some of them as serious as the one caused by World War II. Today, we also find examples of situations that have had an impact on the business fabric: the COVID-19 health crisis or the current war in Ukraine.
In many cases, crises have been understood as an opportunity to reinvent the business and to redirect the value proposition and the way of operating.
More than building a strong business, the trend to develop a successful business is to promote a flexible business model, with a dynamic management and capacity for differentiation. In short, a business model that knows how to adapt quickly to the needs of the market, its customers and its own employees.

In research by Michael Greiner and Scott Julian published in the July 2020 Harvard Business Review, 5,278 publicly traded companies were studied. The objective was to analyze their performance during the 2008 financial crisis in terms of the strategy they were pursuing: differentiation or cost leadership. The study showed that those companies that had moved from a strategy of differentiation to one of cost leadership did not increase their probability of surviving the crisis, nor did they improve their economic and financial performance.
This research shows that a company's probability of surviving a crisis is directly proportional to its ability to adapt and digitize its business.
3 strategies to maintain business in times of crisis
Strategic planning is a key factor for business. Its importance lies in its link to business results. Therefore, in times of crisis, it is vital to define appropriate strategies to maintain profitability; some of them are discussed below:

1.- DYNAMIC MANAGEMENT STRATEGY
Today, the changing environment has become a constant that is reshaping the way companies must formulate their strategies and business models. Operating and growing in these highly dynamic conditions requires a totally new approach focused on the short term, allowing for dynamic management.
Dynamic management involves short-term actions and short planning. This means that decisions are made prudently, avoiding large-scale debts, reducing non-productive expenses and making short investment amortization cycles.
In this type of strategy, by frequently reviewing the plan, the organization can adjust the route it takes. In this way, it gains in fluidity, responsiveness and flexibility.
2.- FOCUSED STRATEGY
When companies go through periods of low sales, it is very common to reduce or even eliminate certain production and marketing activities. But it is precisely in these periods when it is vital not to eliminate them, but to adapt them to market conditions.
The concentrated strategy makes it possible to adjust to conditions, using available resources to target a single market segment, i.e., it specializes in a single market niche.
Because the company focuses on a single segment, it can concentrate its efforts on understanding the needs and motivations of the segment's members.
If this strategy is chosen, it is important to consider that, due to different factors, segments undergo changes, some of them even diminishing. Therefore, if the offer is aimed at several segments, the profitability of each one must be analyzed in order to remain in the most profitable and stable one.
3.- DIFFERENTIATION STRATEGY
As the market becomes more competitive, the number of products with many similarities increases, making it difficult for the customer to consider them in the purchasing process.
In this scenario, the differentiation strategy seeks to create differential value, which can be tangible, as in the case of a physical product, or intangible, such as a better user experience.
In any case, developing or reinforcing the attributes that our segment is looking for can be specific to our business or product to favor preference at the time of purchase.
Although each case is different, in general terms it is advisable to incorporate the following differentiation strategies:
- Orient the offer to the needs of the specific segment 🎯: a product must be offered that provides value to the customer. For this, it is necessary to carry out a previous research work, which helps us to determine the needs of the segment.
- Customer service 👌: when faced with similar products or services, customer service can be a decisive factor in the purchasing process. Therefore, it is vital to pay attention to customer care and accompaniment before, during and after the sale.
- The use of new technologies 👩🏿‍💻, applied to products, services and improving the user experience. The new customer is digital, which implies that the company and its offer must also be digital.
The electronic signature as a differential value in businesses
In any industry, a company's differentiating value gives it a competitive advantage. In this race for consideration, there is no doubt that if companies use technology to serve customers better than their competitors, they will have a greater impact.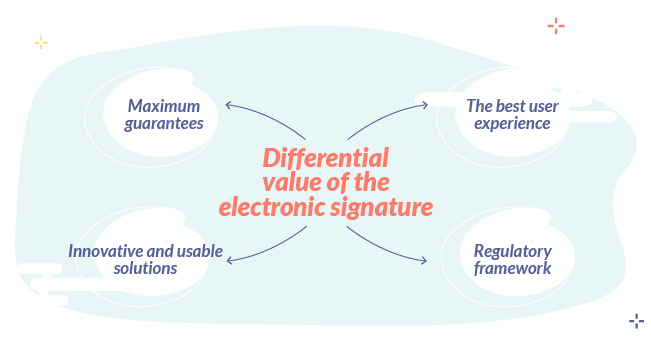 - Innovative and usable solutions: thanks to an R&D team in constant study and optimization and to the most advanced technology in safety, performance, functionality and compliance with regulations and standards.
- Maximum guarantees: Uanataca is a Qualified Trust Service Provider in accordance with the European Union Regulation No. 910/2014 on electronic identification and trust services for electronic transactions (eIDAS).
- Regulatory framework: multi-sector companies can take advantage of the common ground provided by the eIDAS Regulation when ensuring a secure environment in which digital identity is regulated.
- The best signature experience: Uanataca's electronic signature is aligned with and supports the customer centric approach that is essential in most industries today. Solutions such as One-Shot Signature provide the customer with a smooth, satisfactory and immediate experience, without sacrificing maximum guarantees. Ask us for a free demo and discover how your customers can sign contracts and other documents instantly with a digital certificate: