Regtech: new technologies for regulatory compliance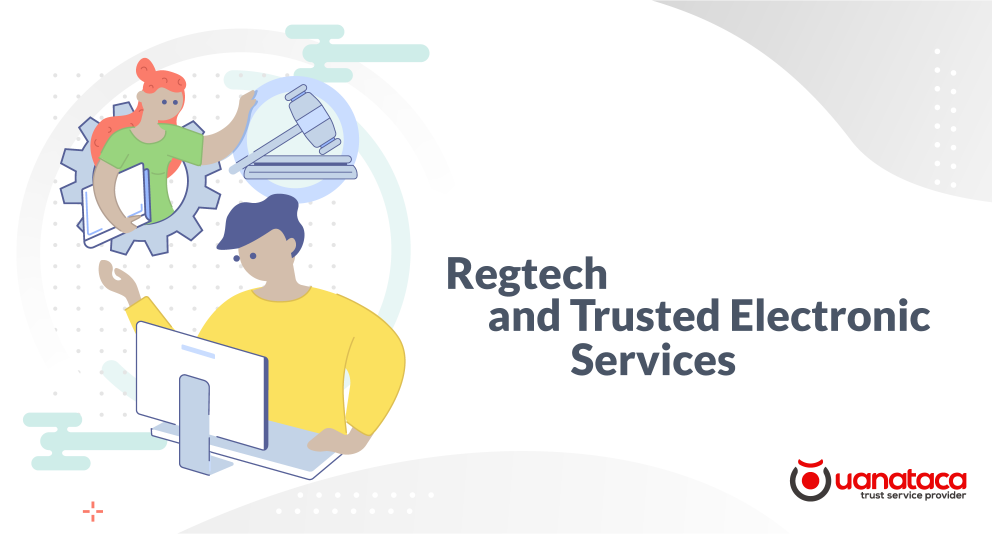 Compliance with regulatory requirements in terms of costs and resources is a burden that in many cases companies must bear. In response to this burden, emerging Regtech companies aim at automating processes related to regulatory compliance.
In this post we explain the importance of Regtech services and how electronic trust services, besides facilitating legal and regulatory compliance, improve other corporate aspects.
Regtech: digital transformation of regulatory compliance
The disruption of digital technologies has brought with it the appearance of multiple terms and industries such as Fintech, Proptech, Insurtech or Legaltech, related to several entrepreneurship initiatives and development of new business models or services that are identified among these ones.

Within this group of industries that rely on new technologies, also known as the X-Tech sector, we have witnessed the emergence of the RegTech phenomenon. This term, which combines the words Regulation and Technology, refers to the sector of companies dedicated to the provision of services and / or technology-based compliance solutions to improve and adapt to different regulatory requirements existing in the sector where their clients operate.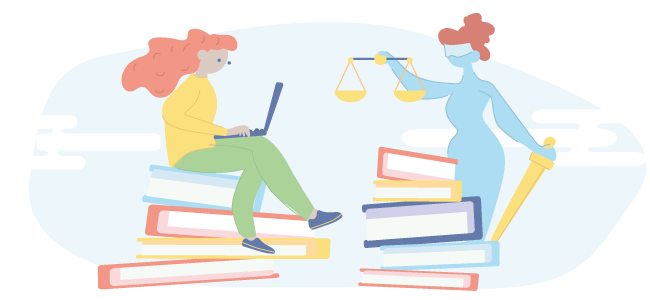 In this sense, we find companies generating solutions for the optimization of processes and also for the improvement of business efficiency in compliance with regulatory requirements that depending on the sector, will need to be supported by services that offer technical and legal certainty.
In highly regulated sectors, such as the banking, insurance or financial sector, digital transformation processes need to be supported by services that offer legal guarantees, and at the same time generate trust to third parties in the development of their economic activities.
From this perspective, we could consider Regtech companies and services as catalysts for digital transformation processes. In some cases, Regtech companies and services enable new business models that have traditionally been restricted by regulatory barriers, hampering the entrepreneurship and innovation of new players in the market and, in others, they facilitate the digitization of services of traditional companies that use this class of solutions to do it with full legal coverage in dematerialization of processes.
Trusted electronic services, a growth opportunity thanks to digitization and regulatory compliance
In this class of Regtech services that facilitate digitization with full legal coverage, we find Qualified Trust Service Providers (QTSP), who act as providers of technological services for regulatory compliance. Its services comply with special legislation - the eIDAS Regulation in the case of the European Union - which expressly provides legal guarantees to processes and operations carried out in digital environments.

Qualified electronic signature
Some of the examples that we could comment on would be the use of the qualified electronic signature, a service that the regulations on the prevention of money laundering consider as a technological means of regulatory compliance, specifically with regard to the accreditation of the identity of the account holders or managers of financial products.


Document preservation
Another of the cases where the services of the QTSP find practical application is in the fulfillment of the documentary preservation obligations. There are multiple legal and sub-legal regulations that require the preservation of certain documents for long periods of time.

In this regard, we can cite, for example, the preservation of invoices, accounting records and other documents with fiscal relevance, the preservation of documents of the state's registry function to prove property rights or simply, the need to preserve contracts which execution is expected to be carry out during a long period o time and, consequently, it will be necessary to preserve its integrity in the event that it has to be used in a judicial process.
Time stamping
The preservation of documents implies another trust service provided by the QTSP: the Time Stamp or Timestimp. This service is useful and necessary to provide trust and legal certainty to the evidences creation process, specifically about the exact date and time of the execution of operations or events in the systems.
It is used on regular basis in multiple sectors to comply with the regulatory requirements of recording the moment a document is signed or filed, the moment an accounting record is issued, an application is submitted or a banking operation is executed, among others.
Electronic registered delivery services
Similar case is found for electronic registered delivery services, which provide compliance solutions for the creation of reliable evidence in the notification of conditions and other issues towards clients.
This service can use digital certificates of electronic signature for user authentication, collaborating with the creation of security conditions to ensure the protection of access to sensitive data in accordance with the provisions of the GDPR.
An example of this can be found in the health sector, where it is mandatory to safeguard the information in electronic medical records, guaranteeing that traceability and restriction measures are taken in the access by its owner or to those legally authorized such as medical doctors and other health professional.
Electronic signature validation
Finally, the use of all the above services entails the use of another trust service: the validation of electronic signatures and seals. This service allows regulated subjects to fulfill certain duties that provide certainty to their digital operations, to verify the integrity and creation data of qualified electronic signatures and seals, as well as the integrity of time stamps.
Be sure to read this article to learn more about the importance of validating electronic signatures. In addition, we explain how to check the validity of an electronic signature for free.
Advantages of electronic trust services as Regtech services
Over time, the use of trusted electronic services is gaining ground, not only as a means of compliance per se, but as a way of reducing corporate risks in the execution of high-value contracts.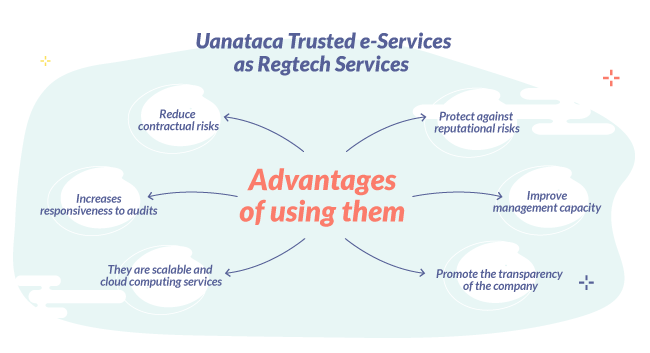 Likewise, they can be measure for protection from reputational risks related to frauds carried out through digital means or privacy violations in stored data, a reflection of poor management of the data they manage for their clients.
The use of these Regtech services also provides improvements in companies' management capacity, by reducing the complexity of the internal management of legal obligations and control procedures, which in many cases -Fintech for example- represent one of the main market barriers.
This simplification automatically improves the response capacity of companies facing audits, inspections and/or quality assurance processes, since the digitization of processes also allows the automation of management reports and evidence presentation for compliance purposes when required, without the need for more staff to do so.
Other barrier overcome through these implementations is the need of high economic investments for their use. Uanataca's trusted electronic services are scalable on the cloud, allowing their use from day one. Through flexible models, companies will be able to consume them as their market and management needs grow, integrating them almost natively within their own processes or solutions. All this, without impacting on the clients' user experience while complying with the regulatory requirements.
Finally, the improvement of processes with greater evidence and guarantees that prevent their modification by making traceable its operations, generally favors the transparency of companies with their clients, their employees and before the regulatory bodies in charge of their supervision.
---
HOW CAN WE HELP YOU ?
Uanataca besides being a Qualified Provider, works to offer a 360º offer around the services, led by a multidisciplinary team of professionals with great technological, legal and business experience that offers the best advice and support to provide technical and legal guarantee to your processes and workflows.
📧 Contact an expert by writing an email to info@uanataca.com or call us at +34 935 272 290