Digital Signatures in Call Centers: Close sales faster
14 april 2022
Electronic signature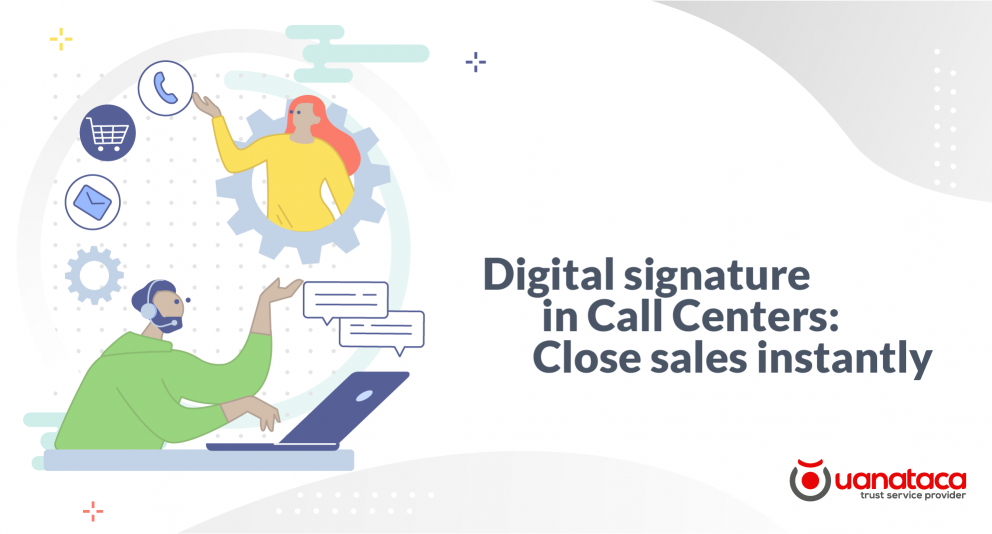 Call centers are becoming increasingly relevant in today's market. New business strategies, focused on the customer and on offering an increasingly digital sales experience, have favoured an increase in demand for call center services as a means of having staff trained to sell, provide support and generally interact with the company's current and potential customers.
However, ignoring its potential to strengthen a company's bottom line, many call centre service providers do not understand the importance of offering added value to be considered by companies. If your business provides call center services, in this post you will discover the advantages of electronic signature integration as a key tool to close sales instantly.
Strategic objectives of a Call Center
By definition, a call center is made up of a team that manages and resolves calls, contacts or procedures and offers products and services of the companies they represent. There is no doubt that they play a very important role for a business to succeed, grow and prosper. For this reason, Call Centers must resolve any management or sale in the most efficient way possible, maintaining predefined quality standards and always taking care of customer satisfaction levels.
In short, we can say that the function of a call center is to guarantee the company's profitability, either as a point of profit through the search for sales opportunities or as loss control, retaining the customer relationship.
Although each call center will have a series of specific objectives, they can be broadly classified as follows:
- To speed up the response and reduce abandonment: time is the biggest cost that a customer spends when he goes to a Call Center. And they do not like to waste it.
An agile and efficient response from the Call Center team will improve the user experience and in general, allows them to handle a greater number of communications.
- Guarantee customer satisfaction: having a positive and understanding attitude, offering different alternatives and attending to needs in a personalised way are key to guaranteeing customer satisfaction, customer loyalty and the possibility of recurring purchases.
- Facilitating the closing of the sale: call centers must have a team capable of converting a potential customer into a real one.
The time factor is also a determining factor in closing a sale. For this to be favourable, call centers must have tools that allow them to close sales instantly and reduce the abandonment rate, such as, for example, electronic signatures.
Advantages of electronic signatures in Call Centers
Most companies have contracted the services of a Call Center at some point in time to offer their new products or services.
In order to close sales and contracts instantly and securely, the advantages of Uanataca's electronic signature solutions facilitate the formalisation of the agreements reached without waiting and without having to travel.

⏱ Flexibility and agility: call center operators can lose deals and customers because of the waiting times required to physically sign documentation. E-signatures simplify and speed up the process, while providing great geographical and time flexibility.
👍🏻 Improves customer experience: consumers increasingly perceive the overall experience as a differentiating value. Uanataca's e-signature solutions are designed to deliver the best customer signature experience.
👨🏻‍💻 Paperless and 100% online solutions: Uanataca's e-signature enables complete paperless processes, i.e. from start to finish, significantly reducing printing costs and any other associated or indirect costs.
Uanataca's signature solutions are designed so that customers can give their consent to the contracting of services or the purchase of products on the spot, 100% online, without waiting or delays. Thanks to this possibility, the conversion rate increases significantly.
🚀Add value: as we have highlighted in this article, it is essential for the call center to generate value in order to be considered by companies. In the current scenario, the greatest differential value is innovation and the use of technological tools such as electronic signatures.
🛡️ Maximum guarantees and data confidentiality: Uanataca's electronic signature solution One-Shot Signature with Video ID is the only system that allows sales contracts to be signed with an electronic certificate issued at the same time as the signature, avoiding the generation of additional evidence documents and maximising the simplicity of use for the user.

5 types of companies that use call center services

Any type of company can benefit from the services of a call center. Below, we list some of the companies that use a call centre as a strategic action to connect with their customers and close sales:
1.- Financial institutions, banks and savings banks. When it comes to money, good customer service is essential. In the midst of the migration from physical to digital, now more than ever the financial sector needs the services of a call center to resolve customer queries, carry out transactions with financial cards or even offer new products or services.
2.- Insurance companies. The insurance sector needs the support of a call center to operate with speed, efficiency and proximity. In the case of incident resolution, most customers go to the insurance company because of an emergency or need for immediate attention, and it is vital to be able to respond immediately and follow up until the incident is resolved.
3.- Fixed and/or mobile telephone companies. The telecommunications sector faces one of the highest rates of customer turnover in the market. Through a call center that prioritises the objectives of customer satisfaction and reduction of abandonment, they will be able to reduce the abandonment rate. They will also be able to better attend to queries, offer new services and improve the conversion rate.
4.- Ecommerce. Call center services are essential to solve pre-sales queries, during the sale and as an after-sales service. In online sales, trust is fundamental and the fact of being able to solve doubts closely improves the customer's experience and the conversion rate.
Telemarketing companies. In telemarketing companies it is vital that they have a call center from which to generate leads, close sales and contracts.
---
Start the digital transformation of your business today
Do you need advice? 📨 Contact us and a trusted service specialist will guide you on the best e-signature solution for your business.