First impressions counts: how to succeed in employee onboarding
10 march 2022
Digital transformation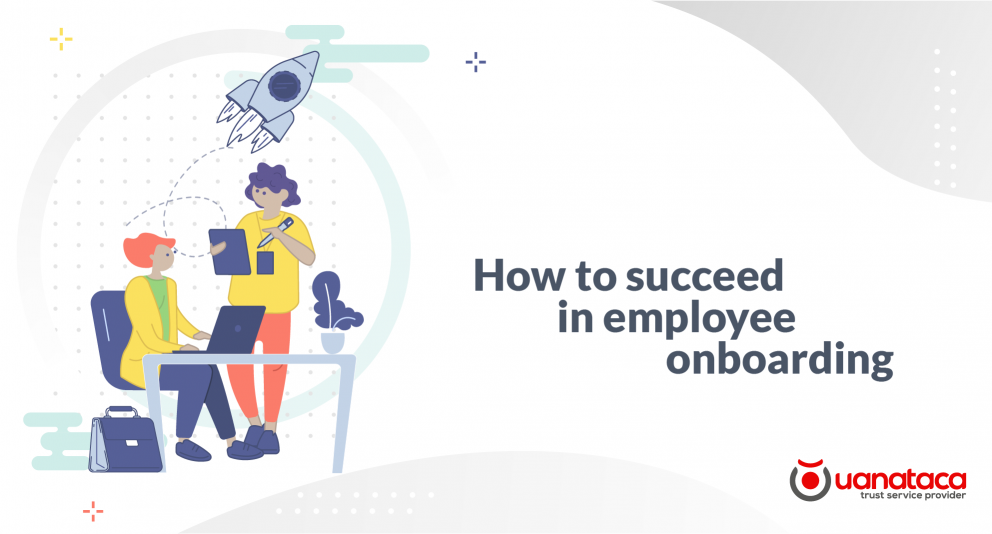 The working environment is evolving to match the world we live in. In this new ecosystem, companies that want to be considered and able to retain talent should not only focus the onboarding process on the operational part, but make it a real experience for the new team members.
If you want to achieve the complete integration of the employee into your company and their new position, we recommend a series of guidelines and tools that will allow you to optimise onboarding in your business.
Why is it vital for companies to improve the onboarding of their employees?
In a company, employee onboarding is a comprehensive process. It includes everything from operational activities such as the actual signing of the contract to more individual aspects such as getting to know the company's philosophy and values.
If we focus onboarding only on the operational part and do not make it a real experience, we run the risk of suffering a talent drain and even a loss of productivity that, in the long run, can be detrimental to the business. Here are some of the benefits of optimising onboarding in a business:
INCREASES RETENTION RATE AND PRODUCTIVITY
A report published by Brandon Hall reveals that organisations with a strong onboarding process achieve an 82% improvement in new hire retention and over 70% improvement in productivity. In short, when workers are comfortable and adapted, they are more productive.

REINFORCES EMPLOYER BRANDING
On the other hand, Gallup's 'State of the American Workplace' report indicates that only 12% of employees say they strongly agree that their organisation does a good job when recruiting new employees, which is a significant loss of reputation for internal and external talent.
New employees appreciate the fact that they are given guidance and support throughout their induction. Practices such as assigning a mentor will make the onboarding process smoother and less traumatic.

REDUCE RECRUITMENT COSTS
Expanding the workforce in any company is extremely costly. By preventing employees from leaving their jobs, the company saves by not having to recruit new employees again.
Main objectives of an onboarding process
- To ensure that the candidate finally joins the company and does not disengage from the process at the last minute. Adapting to a new job is not always easy, and even less so without the right orientation. According to a survey by Equifax Workforce Solutions, 40% of people leave their job within the first month of joining and 10% before their first anniversary. Much of this early departure is due to ineffective onboarding processes or lack thereof.
- Make their experience memorable throughout the onboarding process. The onboarding of new employees is no longer a couple of days event, but a process that starts even before they are hired and continues until they are fully adapted to the organisation.
- Personalisation is the key to achieving the best experience. It is not about making an induction plan for every employee, but for your business. At each stage of onboarding, the employee should get an experience geared to their needs: a welcome gift on their first day, the assignment of a "buddy" to accompany them or access to digital tools that make their day-to-day work easier.
- Accelerate the learning curve, which is necessary for the new employee to reach high levels of performance in the shortest possible time. The learning curve is fundamental in the incorporation of an employee. It focuses on the specialisation of employees, favouring companies by increasing productivity in the work environment, reducing time and costs.
5 trends for successful onboarding in 2022
In order to carry out a successful onboarding process, people management experts agree on the need to involve the entire company, including senior executives. Another key factor is the accompaniment of a buddy. Technology also plays an important role in a new style of managing the onboarding process. Below, we expand on these trends and address others that are essential in defining new onboarding processes:
1. The figure of the Buddy 🙋
Along with the excitement and expectations of the first days in a new workplace, there is also fear and other emotions that require support and guidance. This is where the figure of the buddy comes in, i.e. a colleague from the team or even from another area who can help with operational processes or answer the new employee's questions.
Thanks to the buddy, new employees feel supported and start their new adventure with a positive attitude and, in the long run, their performance improves. The Buddy will become a springboard for important aspects such as team building and will also help to improve employeer branding.
2. More active involvement of executive management 🔗
Senior executives have a key role to play in inspiring and motivating new employees from the very beginning. Their main function is to lead the team and there is no one better than management to help new recruits understand the overall purpose of the organisation and to align business objectives with those of the employees themselves.
3. Digital transformation in onboarding 🚀
Technology is taking a central role in the development and measurement of onboarding. It is not just about uploading documents to the corporate platform, it is about digitising what is operational and humanising what is important.
In the area of online onboarding of new employees, several trends are being implemented by companies, for example the application of gamification. According to experts, applying gamification techniques are motivating practices that facilitate socialisation.
Another important trend is to provide employees with their own digital identity by issuing a digital certificate. This tool provides employees with a secure and reliable identity with which they can authenticate themselves in any electronic office and carry out a large number of everyday procedures without having to travel.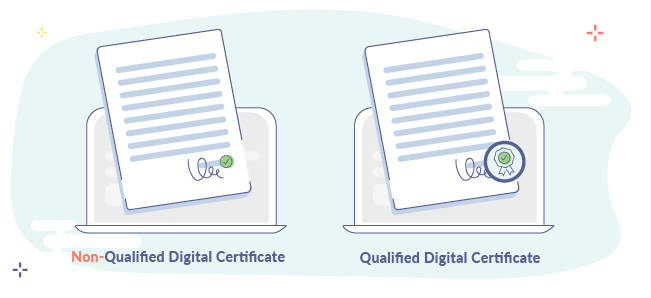 When deciding which type of digital certificate - qualified or unqualified - is more suitable for employees, it is necessary to assess the guarantees it offers. Although both types of certificates are defined in eIDAS (Regulation (EU) No 910/2014 on electronic identification and trust services), only qualified certificates provide greater guarantees, such as those relating to the information contained in the certificate.

Related post > Digital certificate: secure online identification for your workers
4. Facilitating administrative processes with electronic signatures 👩🏾‍💻
Nowadays, employers and employees are increasingly communicating electronically. One example of this is the electronic signature, with which documents can be signed more quickly and benefit from its advantages. For example, the integration of electronic signatures in the onboarding process makes it easier for all parties to sign any type of document, such as employment contracts, confidentiality agreements, material delivery certificates, etc.
One of the most popular misconceptions is that electronic signatures are a tool that can only be used by employees who are away from the office. Even for those employees in 100% face-to-face mode, e-signatures offer advantages over handwritten signatures: they minimise paperwork, reduce paper consumption - a very important aspect for generation Y and Z who make up a large part of the working population - and speed up the signing process, which helps to save time.
---
List of essentials for an electronic signature solution for onboarding
- The best signature experience: it is necessary to prioritise usability, facilitating the electronic signature of documents in a simple and intuitive way without the need for prior knowledge.
- Maximum guarantees: only electronic signatures based on qualified digital certificates offer maximum legal guarantees.
- A flexible and scalable model: as companies grow, their needs change. Value that the provider can offer you complementary services or services capable of achieving 360º coverage.
- Easy integration: the integration of a solution should never be traumatic. Therefore, consider only those services that are easily integrated into your systems and that have the appropriate support from professionals.
- Solutions adapted for companies: entrust the digitisation of your business to providers that offer you specific solutions in response to real needs in the new business environment, characterised by the demand for agile, versatile and accessible services from anywhere.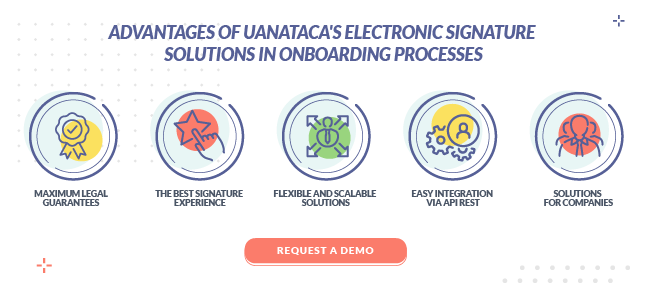 In short, it is possible to find different electronic signature solutions on the market. It is necessary for the solution to offer the best signature experience and also the maximum guarantees, since documents containing personal data and, in some cases, sensitive employee data are being processed.
---
5. Improvements in the use of data 📈
The use of analytics and big data in onboarding is also trending. They are increasingly used to measure the impact and effectiveness of the process. Companies are using them to assess employees' first impressions, their experience of the whole process and for predictive analytics.
Ultimately, a comprehensive onboarding of an employee depends on many factors and each person will complete it in a very different way. On the more operational side, the onboarding plan ends when the employee knows how to do what he or she needs to do on a day-to-day basis. On the other hand, feeling part of the organisation and internalising the culture is independent of each person.
The definition of an onboarding plan aimed at providing the best experience and the use of digital tools to develop talent, improve productivity and serve as an effective link between employee and employer will play an important role.