What are Cloud-based digital certificates? Know its advantages
18 march 2021
Digital certificate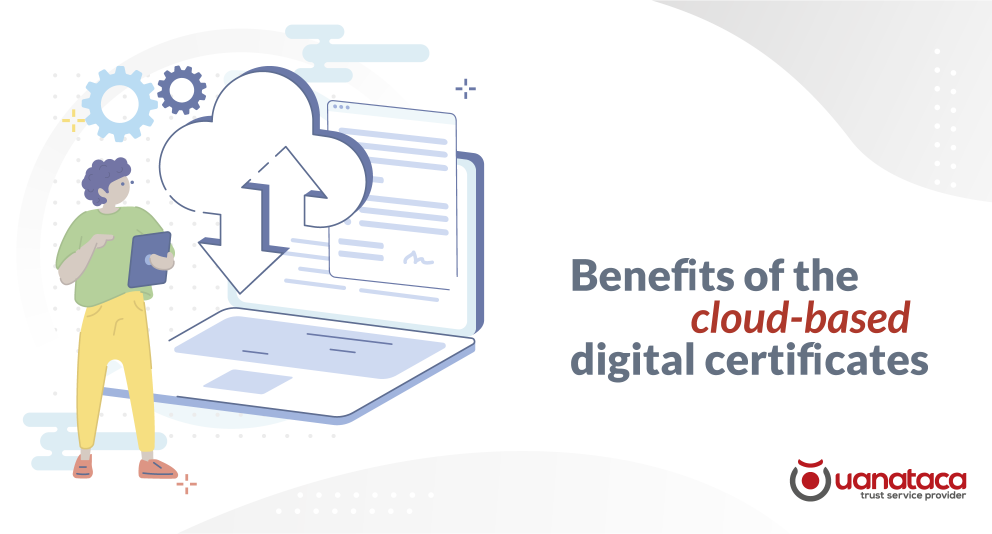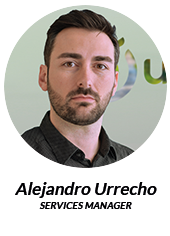 Either as regular or occasional users, most of us have made use of cloud computing, also known as cloud services or simply "cloud". Cloud offers a large set of enterprise applications, but there is a special one with such features that makes it the best tool for granting access to a secure digital identity at any place and time: the cloud-based digital certificates.
In this post we will describe the benefits of the cloud-based digital certificates and how to take advantage of its potential.
What is a cloud-based digital certificate?
A digital certificate is a credential that is issued for natural or legal personalities, even services. It binds their identity to a pair of keys, a private key that is kept secret only by the certificate owner and a public key that is shared with any recipient. This pair of keys is unique and is generated on a cryptographic device. In case of cloud this device, known as HSM server, is secure and supervised by a qualified Trust Service Provider.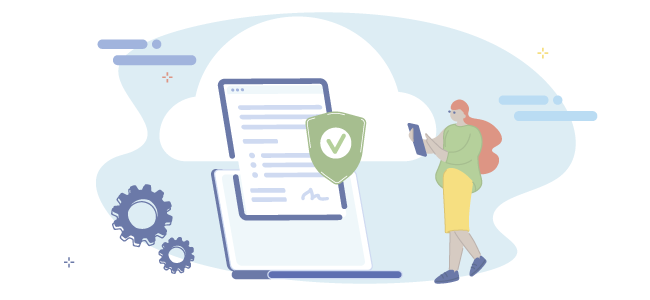 Most users are owners of file, card, cryptographic chip or token-based digital certificates. This tendency is changing as there is a growing number of users that have discovered multiple advantages in a so far unknown format but nowadays experiencing an increased usage in multi-sector companies: the cloud-based digital certificates.
Advantages of a cloud-based digital certificate
Qualified Signature
Depended on its typology, the electronic signature offers different security and legal warranty levels. Out of the three types of electronic signature established by the eIDAS regulation, the qualified electronic signature offers the highest level of security and, in consequence, the highest legal warranties.
The qualified electronic signature, also known as recognized signature, is characterized by the robustness of the proof quality by standing itself as a total proof, even inverting the burden of proof in case it is questioned. Among all mentioned formats, only the qualified digital certificates issued over tokens or cloud can offer this level of quality for electronic signatures.
Security
Cloud-based issued certificates offer a plus of security as there is only one copy of the private key, in the same way it is for token or card-based certificates. This prevents losing control of the certificate, a common inconvenience experienced in other formats.
When we use a cloud-based certificate in a computer, we are accessing to the private key only for its usage without needing the installation of the certificate. When the usage action ends, we finalize the session by cutting off all connections between the computer and the certificate's private key.
The usage of a digital certificate requires a code that is only known by the owner. If a user considers his/her credentials have been compromised, they can be changed at any time avoiding the certificate revocation and the act of issuing a new one.
API
There is a growing number of applications with integrated electronic signature processes. Uanatata offers multiple signature solutions adapted to cover all specific needs for areas like human resources, health or financial services.
All of them utilize cloud-based digital certificates, a format that allows the interaction from any application through API request integration. The user experience is outstanding as the usage of the digital certificate is totally integrated to the business application.
Mobility
Under current health situation, mobility has become a major competitive advantage for working with clients from any location as well as improving work flexibility of employees.

One of the main advantages of cloud-based digital certificates is that the certificate's private key is accessible at any place and time, as it just requires a device with an internet connection.
Uanataca SignCloud APP: mobility without limits
The usage of a digital certificate on a computer is relatively easy, but so far, the signature of any document or authentication from mobile devices could be considered difficult. In past times, to use the digital certificate was required its installation on the device or its location in a reader.
The best option to make use of the digital certificate on a mobile device is through Uanataca SignCloud app.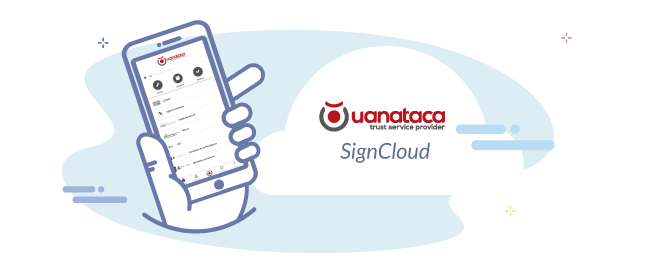 The Uanataca Mobile Signature is an APP for smartphones and tablets compatible with operative systems like Android or iOS (Apple). The mobile app includes three functionalities to cover the main uses of a digital certificate: website authentication, signature and validation.
From your smartphone or tablet incorporated browser you can get access to any webpage that requires authentication via digital certificate, like it is common on public administration's electronic offices.
Signing any document you receive is quite easy. After downloading our app, you can open any document directly from the application or use shortcuts to open the document from other applications like mail app or the device explorer. You can also get instantly a validation report from any previously signed document.
Uanataca Cryptowallet, get all cloud features for your software digital certificate
The extended use of virtual wallets for the management of those resources that have until now been physical, like bank cards, tickets or bookings is increasing with time. Digital certificates can also get benefits from this technological progress.
Uanataca offers its Cryptowallet service on which a user is enabled to import personal file digital certificates to his or her wallet and take advantage of all cloud-based certificate features. Cryptowallet is compatible with digital certificates issued by any certification authority regardless of geographic restrictions.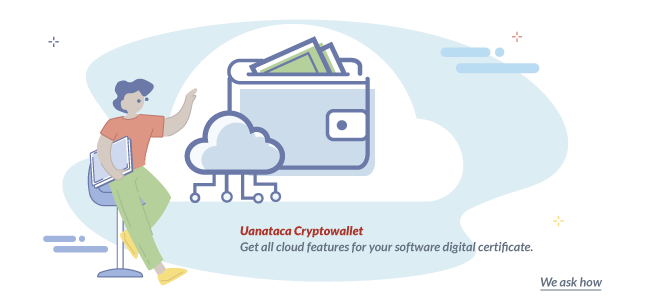 This service works very easily. The user receives his or her personal wallet access credentials, along with the file importing steps and usage instructions. Once the certificate is imported to your wallet, you can start using it from any Internet-connected device, just like cloud-based certificate users.
Professionally speaking, there are many users that own multiple digital certificates, e.g. like the representative of a set of companies. The efficient management of these certificates is highly complex, mostly caused by the amount of them, the differences in validity periods, as well as the low control of their location. All these inconveniences involve weak levels of security and uncertainty, leading many times to the inevitable revocation of the certificate and the generation of a new one.
To solve this issue, Cryptowallet offers an additional feature from the centralized management of all certificates in a single wallet. This allows the user to have strict control of all owned certificates, the expiration dates for all of them including their expiration or revocation indicators, as well as a unique customized set of credentials. If for any reason the user considers his/her credentials could be compromised, there is a possibility to change them at any time avoiding the revocation of the certificates.
In summary, the migration to cloud might suppose the survival of an organization, not only against so unpredictable emergency scenarios like the world's current health crisis and its subsequent social distancing measures, but also facing challenges like flexibility, competitivity, resilience or digitalization.
If you contemplate making the big step into cloud technology and taking all the advantages of cloud-based digital certificates, contact us and we help you out to get the best from your business and electronic signature process.